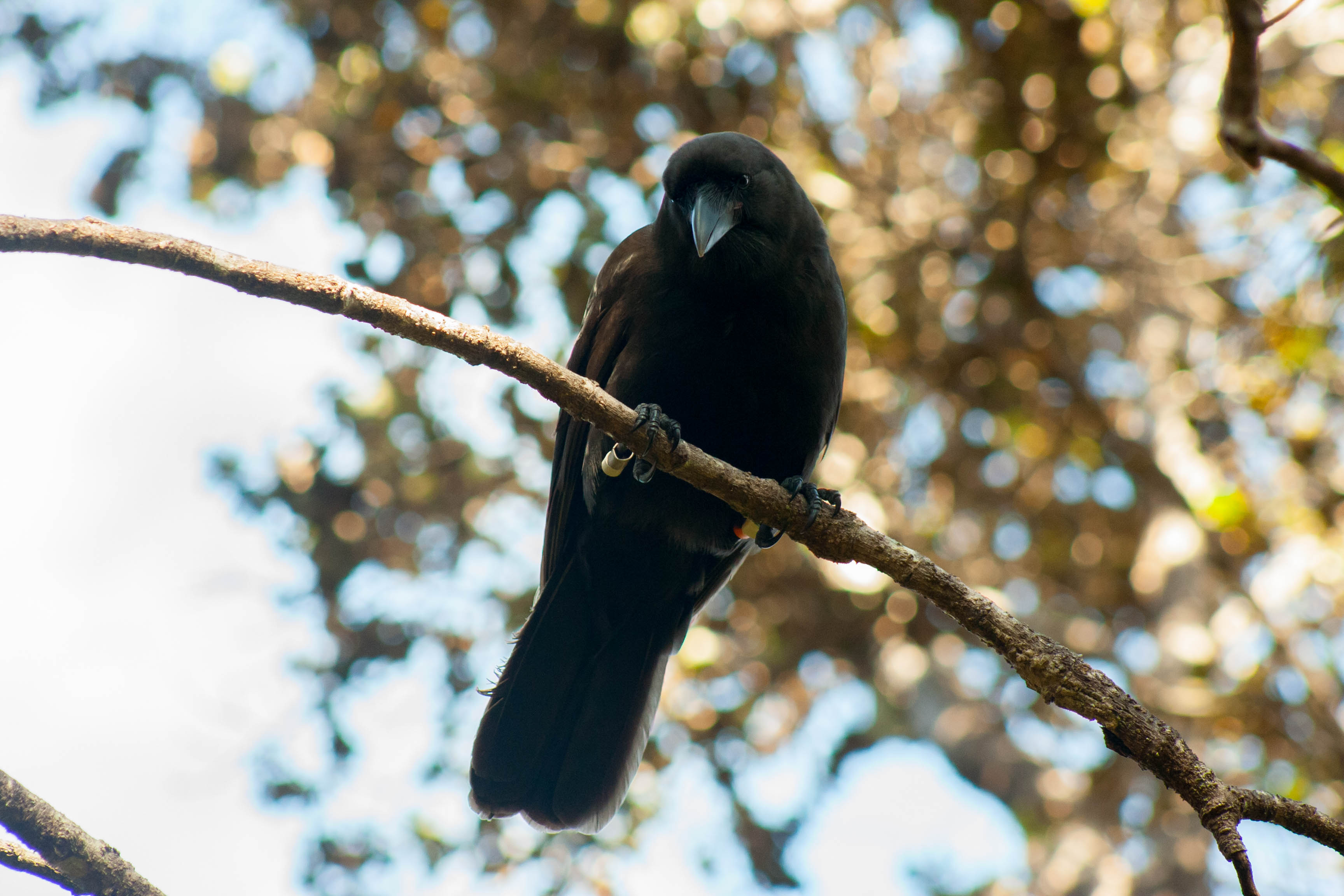 Eleven ʻAlalā Doing Just Fine After Hurricane Lane Drenching
Team Now Preparing for Additional Releases This Fall
In their forest home in the Pu'u Maka'ala Natural Area Reserve on Hawai'i Island, 11 ʻAlalā - native Hawaiian crows - appear to be doing well following several days of heavy rain generated by Hurricane Lane. The critically endangered birds, which are the first to have been successfully released into the wild from conservation breeding facilities last fall, are among the wildlife that experienced more than 30 inches of rain during the storm.
"The Hawaiian forest is very resilient and, in that way, the ʻAlalā are also very resilient," said Alison Greggor, Ph.D., a post-doctoral research associate with San Diego Zoo Global. "Our team got out here as soon as it was safe, and they saw no ill effects on the birds. They weathered the storm very well."
The reintroduction team described the 11 birds as being quite hardy. They have lived in the forest for almost a year, including one entire winter. ʻAlalā are known to be highly intelligent, but the field team said they were thrilled that despite of nearly 3 feet of rain over just four days, the birds remained unharmed.
Department of Land and Natural Resources (DLNR) staff also accessed the site as soon as it was safe, to assess any damage to roads and infrastructure, and to check the status of management actions. "Decades of intensive habitat management have made the reserve a unique ecosystem—home to some of the island's rarest birds and plants," said Jackie Gaudioso-Levita, DLNR Division of Forestry and Wildlife (DOFAW) biologist.
These ʻAlalā - along with 10 others planned to be released this fall, and dozens of others waiting in the wings - are the subject of one of Hawai'i's most intensive and complex conservation breeding and reintroduction programs in history. The last wild ʻAlalā were seen more than 15 years ago in South Kona. Experts from a host of state, federal, nonprofit and private agencies and organizations - all partners in The ʻAlalā Project - have spent years rearing birds in conservation centers on the Big Island and on Maui, managing suitable habitat and strategically planning their release back to the wild. In addition to last year's release and this fall's upcoming release, the plan is to continue releasing birds into native forests for at least the next three years. Ultimately, the hope is that ʻAlalā in the wild will eventually breed successfully and re-establish their place in the ecosystem.