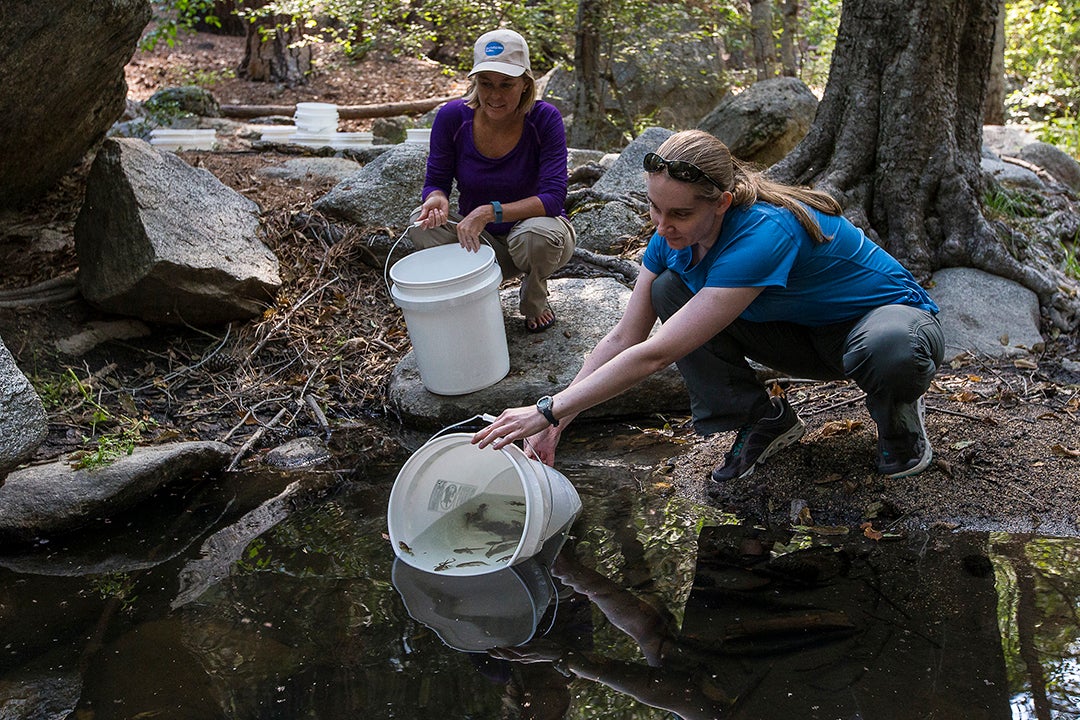 Endangered, Captive-bred Tadpoles Reintroduced into Native Habitat
Debra Shier (left) and Nicole Gardner from the San Diego Zoo Institute for Conservation Research release frogs into Fuller Mill Creek in the San Bernardino National Forest. The frogs were hatched at the Arnold and Mabel Beckman Center for Conservation Research in Escondido, Calif., as part of the recovery program for the Southern California mountain yellow-legged frog (Rana muscosa)—one of the most endangered frogs in North America. The San Diego Zoo Institute for Conservation Research, along with its partners, has been working to save this species from extinction since 2006.
This year, the program, which includes captive breeding, resulted in more than 5,600 eggs laid and the most viable embryos in a single season: nearly 1,800. On Aug. 6, 200 tadpoles that hatched this year, along with 27 metamorphs from last year's breeding season, were released into Fuller Mill Creek.
In addition to breeding the endangered frogs, the San Diego Zoo Institute for Conservation Research participates in the field monitoring of the species, led by the U.S. Geological Survey. The monitoring is critical to determining if the releases are successful, and documenting population declines and increases in this native Southern California species.
The mountain yellow-legged frog is a species watched over by a team of scientists, land managers and regulators, while it maintains a perilous toehold in the mountains of Southern California. Mountain yellow-legged frogs in Southern California live in perennial streams in portions of the San Gabriel, San Bernardino, and San Jacinto Mountains.