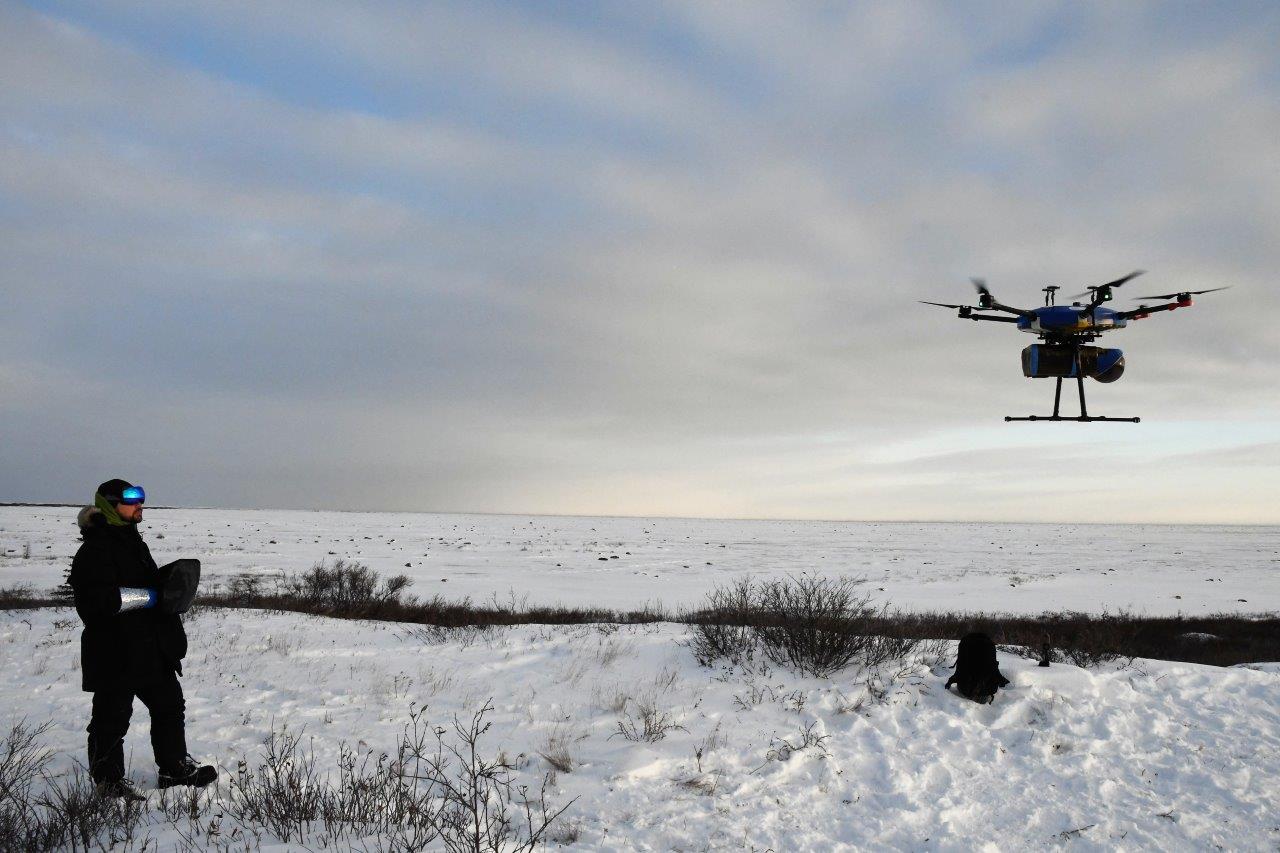 Northrop Grumman and San Diego Zoo Global Successfully Use New Autonomous Technology to Collect Arctic Sea Ice Data
A team of San Diego Zoo Global scientists and Northrop Grumman Corporation (NYSE: NOC) engineers have returned home from a successful trip aimed at collecting sea ice data in Canada's Hudson Bay. This was the second year of this unique collaboration, designed to better understand the performance requirements for new technology used to study critical polar bear habitat. The ultimate goal is to more precisely monitor sea ice habitat in a changing climate, in order to better inform future conservation strategies.
During the mission, named Operation #PolarEye, the team used a customized unmanned aircraft system (UAS) to provide a more detailed, finer-scale view of sea ice habitat, and to observe polar bears without disturbing the animals or posing a risk to humans. Equipped with four integrated sensors operating simultaneously, the UAS flew 11 sea ice mapping missions and collected an array of habitat data, including three-dimensional sea ice maps and multispectral data—at highly detailed subcentimeter resolution. The team also tested the ability of the UAS to detect tracks and signs left behind by polar bears as they migrate from land to sea ice.
"This mission demonstrates what is possible when advanced technology is integrated into conservation research for threatened species like the polar bear," said Nicholas Pilfold, Ph.D., scientist in Population Sustainability at the San Diego Zoo Institute for Conservation Research. "To be able to analyze polar bear habitat in three dimensions will allow us to answer pertinent questions that have previously eluded scientists."
The battery-powered autonomous system was able to withstand Arctic air temperatures as low as -13 degrees Fahrenheit (-25 degrees Celsius), with winds up to 19 miles per hour (30 kilometers per hour), which drove temperatures down to -31 degrees Fahrenheit (-35 degrees Celsius).
"Our team was able to leverage Northrop Grumman's expertise in autonomous technology and sensor integration to deliver a cutting-edge system for San Diego Zoo Global's Arctic mission," said Charlie Welch, Operation #PolarEye technical lead. "The mission was a success because our UAS and our San Diego Zoo Global-Northrop Grumman team were prepared to operate in extreme Arctic conditions."
Operation #PolarEye included two San Diego Zoo Global scientists and five Northrop Grumman engineers. The team spent 10 days collecting data at a remote facility located 25 miles (40 kilometers) north of Churchill, Manitoba.