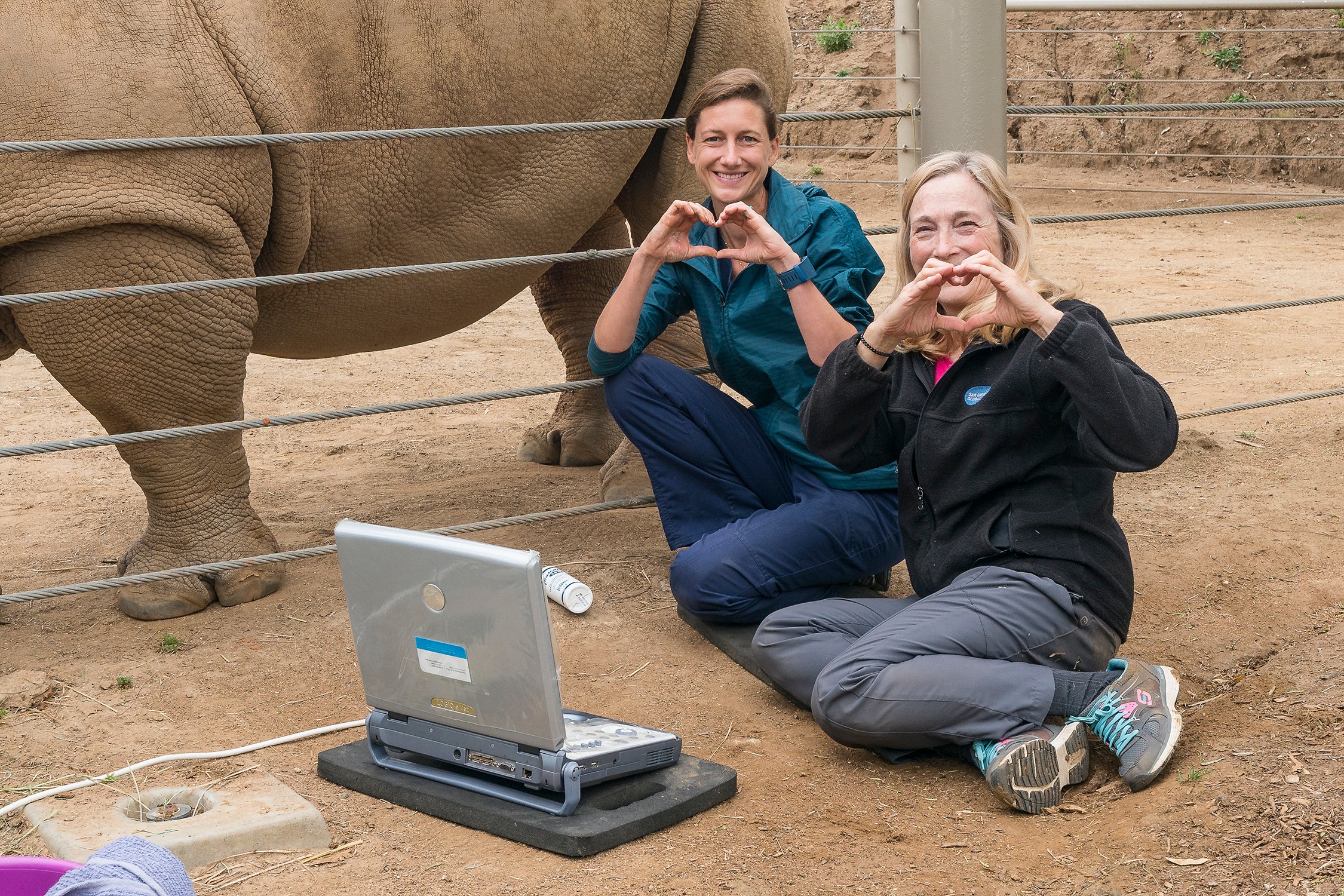 San Diego Zoo Global Invites Everyone to #ShowUsYourHeart on Endangered Species Day
Parker Pennington, Ph.D., researcher, San Diego Zoo Global (left) and Barbara Durrant, Ph.D., Henshaw endowed director of Reproductive Sciences, San Diego Zoo Global (right), pose for a photo for a photo with southern white rhino, Amani, at the Nikita Kahn Rhino Rescue Center.
This Endangered Species Day—Friday, May 17, 2019—San Diego Zoo Global is asking the public to share their love for rhinos and other endangered wildlife by posting a "Show Us Your Heart" photo on their favorite social media channel. In celebration of the forthcoming births of two southern white rhino calves at the San Diego Zoo Safari Park's Nikita Kahn Rhino Rescue Center—and the hope they bring for the ongoing effort to save the critically endangered northern white rhino—the goal is for thousands of people to raise their voices for rhinos worldwide by posting a photo using the hashtag #ShowUsYourHeart.
Victoria and Amani, two southern white rhinos at the Rhino Rescue Center, successfully became pregnant in 2018 through artificial insemination. This is an important step in the development of the scientific knowledge required to genetically recover the northern white rhino, a close relative of the southern white rhino. Only two northern white rhinos now remain on Earth, and unfortunately, both are female.
The artificial inseminations occurred March 22, 2018 for Victoria and July 12, 2018 for Amani. Rhino gestation lasts for 16 to 18 months, so if Victoria and Amani are able to carry their pregnancies to term, the first southern white rhino calves born at the Rhino Rescue Center could arrive in July or August and September or October.
For more information on the #ShowUsYourHeart Endangered Species Day online social media campaign, visit endextinction.org/heart.