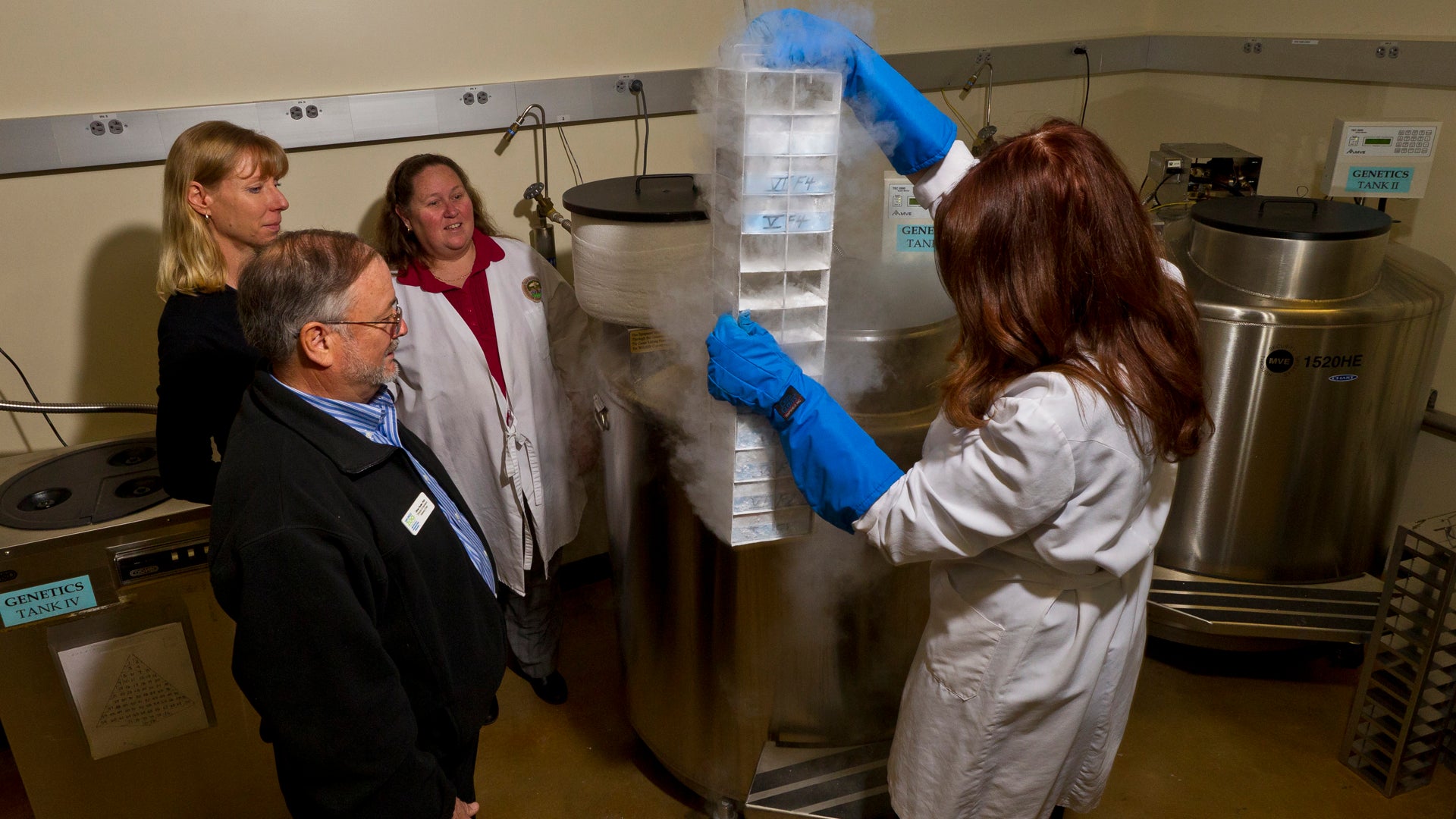 Vaquita Cells Saved in Frozen Zoo®
Researchers at the San Diego Zoo Institute for Conservation Research received tissue biopsies from two rare and critically endangered vaquita porpoises at the end of 2017. The material, containing living cells, was collected from two female vaquitas that came under human care during an attempt to bring individuals of the species into a breeding program. Although growing vaquita cells had never before been attempted, tissue culturists at the Institute for Conservation Research were able to successfully establish the first cell lines for this species, now accessioned into the Frozen Zoo®—the largest and most diverse collection of its kind in the world.
The tissue was collected by scientists working in partnership with the Mexican government and conservationists, during a last-ditch effort to capture the few remaining vaquitas that live in the waters of the northern end of the Gulf of California. This rarely seen, tiny porpoise is the smallest of the cetaceans, and scientists estimate fewer than 30 remain in the wild. Their numbers have dwindled despite efforts by the Mexican government to ban fishing with gillnets, which inadvertently trap and drown these endangered marine mammals.
The material was brought to the San Diego Zoo Institute for Conservation Research so that it could be cultured and stored in the Frozen Zoo®. The cell material has been successfully stored in the biobank, and it is expected to provide significant new information about the vaquita. However, geneticists caution that the samples—from only two individuals, both females—do not provide much hope for rescuing the species if the last remaining individuals perish.
"Although we are announcing remarkable success in our ability to save viable tissue culture cells from two vaquitas, we must recognize that this small step will not allow us to save the species," said Oliver Ryder, Ph.D., director of Conservation Genetics for San Diego Zoo Global. "We hope and trust that useful information will result that may benefit other endangered species of threatened porpoises. And we are saddened to think that one day, these tissue samples may be all that is left of this animal."
The Frozen Zoo® is a bank of tissue and genetic material that has been collected by conservation researchers since the repository was founded in 1975. Frozen, viable cell cultures from nearly 10,000 individual animals, comprising over 1,000 species, are included in the collection. Banked DNA and tissue samples from rare and endangered species provide material for new studies that help point the way forward for managed populations and assist in monitoring and planning for sustainability of wild populations. The library of genetic material includes cell cultures, sperm samples and other tissues with reproductive potential. In the Frozen Zoo®, cell cultures are maintained in liquid nitrogen freezers at a temperature of -320 degrees Fahrenheit.