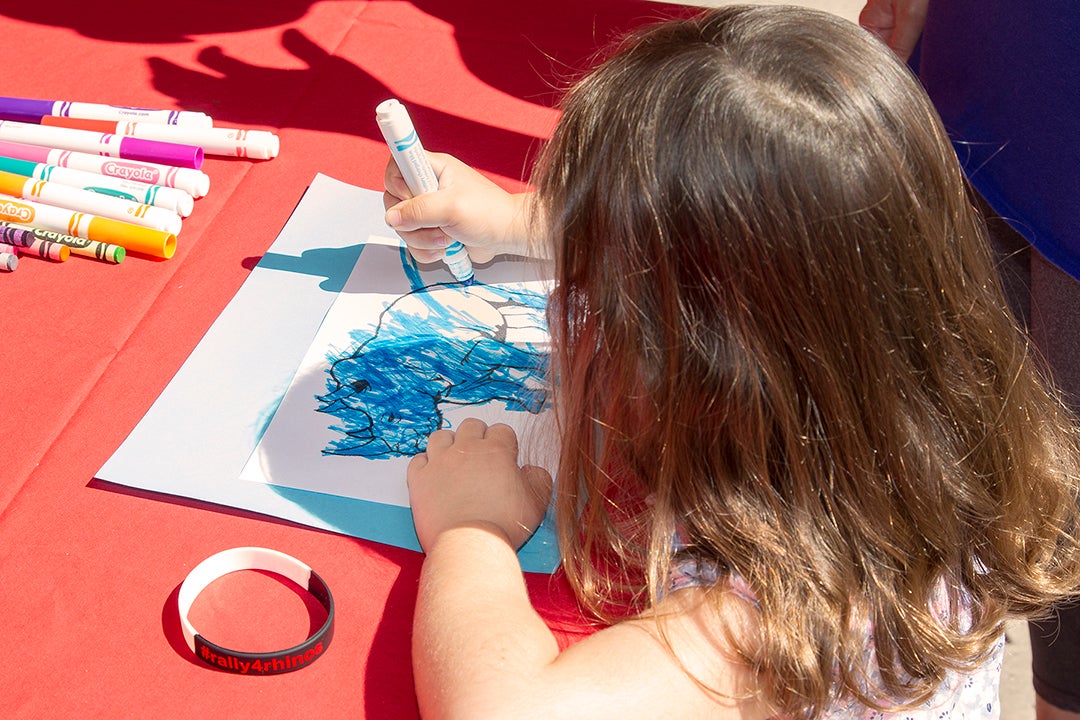 World Rhino Day Celebrated at San Diego Zoo Safari Park
In celebration of World Rhino Day, almost 200 people—including San Diego Zoo Safari Park rhino keepers, high school conservation club members, San Diego Zoo Global staff members, and Safari Park volunteers—participated in a sky art project at the Safari Park's African Plains Overlook earlier today. When the art cards were raised in unison, they formed a 60- by 44-foot drawing of Nola, the Safari Park's beloved northern white rhino—one of only four of this species remaining on the planet.
World Rhino Day is celebrated internationally on Sept. 22 each year, to raise awareness of the five species of rhinos in the world: black, white, greater one-horned, Sumatran and Javan. World Rhino Day activities at the Safari Park included the Nola sky art; special rhino-themed enrichments for many of the Safari Park's animals; and a rhino conservation pledge and coloring activity. Guests were also able to meet the rhino keeper team and learn about San Diego Zoo Global's rhino conservation efforts.
"The plight of rhinos in the wild is reaching a critical stage, with the current poaching crisis, and there is an urgent need to protect this iconic species for future generations," said Jane Kennedy, lead mammal keeper, San Diego Zoo Safari Park. "Today, our rhino keeper team and Safari Park staff are sharing information about rhinos, with the hope people will gain a greater appreciation for these animals and want to do everything they can to save the species for future generations."
San Diego Zoo Global has been working for decades to help rhinos, and has one of the most successful rhino breeding programs in the world. To date, a total of 93 southern white rhinos, 68 greater one-horned rhinos and 14 black rhinos have been born at the San Diego Zoo Safari Park.
To further its commitment to rhino conservation, San Diego Zoo Global is building a Rhino Rescue Center at the Safari Park to house more southern white rhinos, establishing the Safari Park as a sanctuary to protect these rhinos and their offspring—at a time when an average of three rhinos are killed each day in the wild by poachers. Taking a science-based approach, researchers at the San Diego Zoo Institute for Conservation Research, along with collaborators, are also developing reproductive techniques necessary to preserve the genetics of the critically endangered northern white rhino and all rhino species.