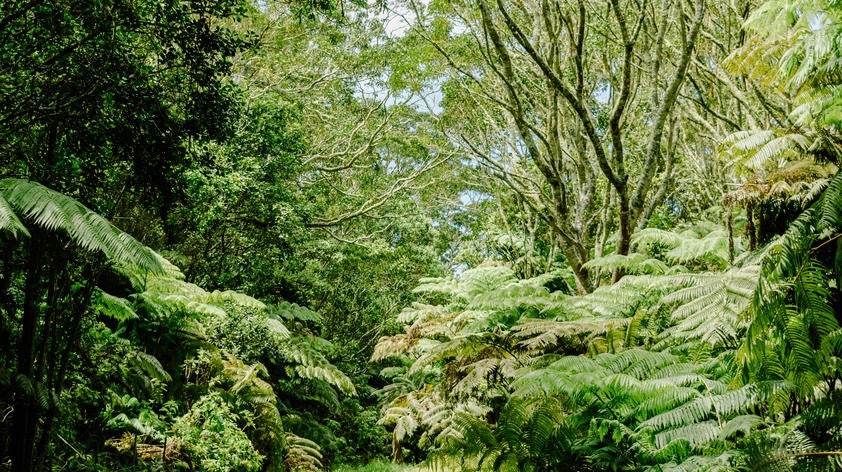 The 'alalā and aloha aina: Interning with the 'alalā education program (Part 1)
Environmental education helps us understand natural processes and our connection to the natural world. It can also help spread conservation messaging. Evaluating an environmental education program is an important step to assessing the strengths and weaknesses of it. Knowing what works and what doesn't helps conservation educators adapt the activities, information, and goals of a program to be as effective as possible.
In spring 2018, I interned with the Institute for Conservation Research's Community Engagement team to assist with the evaluation of an education program currently taking place on Hawai'i island. The program guides secondary students through inquiry activities to investigate healthy native Hawai'ian forests, learn about the recovery of the 'alalā (Corvus hawaiiensus), and conduct experimental growth trials with native plants. Endemic to Hawai'i island, the 'alalā is considered to be extinct in the wild. San Diego Zoo Global and the Keauhou Bird Conservation Center have teamed up to operate a conservation breeding program to restore 'alalā populations to native forest habitat, and this education program helps students understand what is being done to preserve native species.
Specialized environmental education practices such as place-based education and the inclusion of traditional ecological knowledge are being utilized to enrich the students' learning experience, incorporating native Hawai'ian species names and pieces of native Hawaii'ian culture along with lessons on native ecosystem biology. Students are learning how the 'alalā plays a special role in healthy mesic forest ecosystems as a native seed germinator and disperser, as well as this bird's special place within Hawai'ian culture.
My role within the program was to design tools to evaluate the knowledge gained by the students. I created rubrics that score two open-ended questions included in the pre- and post-program knowledge surveys. The drawing portion of the survey asks students to depict a picture of a healthy native forest, and the inquiry portion asks students to design an experiment to test plant growth. Determining what elements to include in each rubric took careful deliberation, and I soon learned just how challenging program assessment can be.
Art can be an amazing window into a child's understanding of the world around them, but a rubric must adequately capture advances in knowledge if it is going to inform about the educational successes and failures of a program. Aside from determining a child's understanding of specific lesson components, children's drawings can be examined for common themes.
For example, children can perceive nature as a place untouched or unspoilt by humans, and looking for themes such as this can be highly informative in creating program curricula. For the inquiry portion of the survey, I was challenged with how to craft a rubric that would scale a student's understanding of scientific methods – including observation, inference, prediction and experimentation – as well as examine their line of questioning. Being a part of this program was a perfect fit for me because it aligns with my goals of pursuing conservation through community engagement. My time with this program has shown me just how challenging and important program evaluation can be.
My work with the 'alalā education program continued through the fall of 2018 and the spring of 2019, and we are now in the final phases of writing an academic journal article. Despite some program setbacks, such as the eruption of Kilauea volcano in the spring of 2018, which delayed post-surveys, we have found some interesting results. Environmental education positively affects children's knowledge of nature, but it can also increase a child's confidence in their own ability to understand science topics and perform scientific investigations. We have seen an improvement in self-efficacy for being able to understand science topics, perform science investigations, and share knowledge with others. But more importantly, we saw students express their concern for native wildlife and understanding of this conservation program. It is our hope that the students will continue to inquire about native Hawai'ian species and build upon knowledge acquired through this environmental education program to become life-long stewards for their beautiful island home.