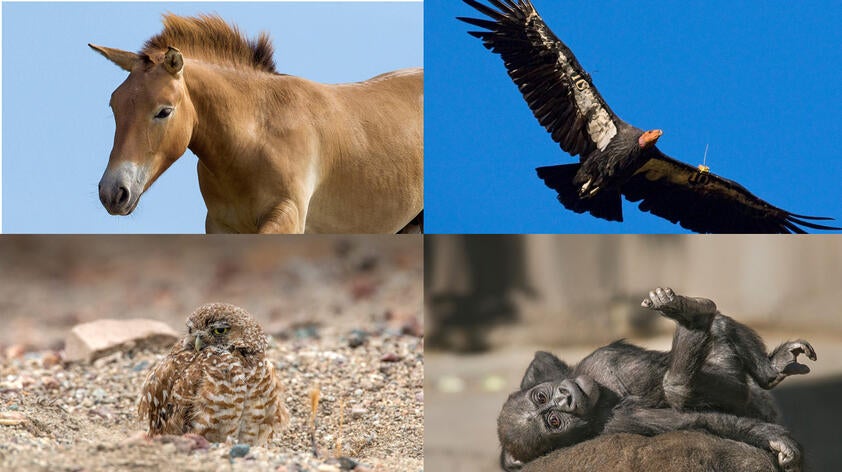 The "extension" of a unique genetic collection
The San Diego Zoo's Frozen Zoo is the largest repository of genetic material of its kind, containing viable cell cultures and reproductive material from approximately 10,000 animals representing over 1,100 species and subspecies.
In addition to this living collection, there is the so-called "extended Frozen Zoo," a collection of biological samples including blood, tissue and tissue culture, DNA, and even milk! This collection of samples has existed for almost 50 years; the first sample collected here at the San Diego Zoo was in 1970 from a Sudan red-fronted antelope. The extended Frozen Zoo has since grown to contain over 40,000 individual samples. Institutions around the world send samples from animals, both wild and in human care, to Conservation Genetics for long term preservation and use in a variety of studies.
Our collection contains samples from around 550 species varying across the IUCN categories of "Least Concern" (domestic cat) to "Critically Endangered" (black-and-white ruffed lemur), and even some extinct species such as the po'ouli, a Hawaiian honeycreeper.
Approximately 76% of our samples are from mammals 18% from birds, 4% from reptiles, and 1% from amphibians. The remaining 1% of our samples come from a variety of species, from insects and arachnids to fishes and sharks. Our top ten collected species, in order, are Przewalski's wild horse, California condor, western burrowing owl, western lowland gorilla, Hartmann's mountain zebra, bonobo, 'alala, scimitar-horned oryx, Grevy's zebra, and southern white rhinoceros.
These samples don't just sit in our ultracold freezers. Instead, they are used to further our understanding of wildlife biology and conservation.
In 2019 alone, we shipped almost 200 samples to collaborators and sample requesters from around the world via our Biomaterials Request Group system. Our samples have been used to aid in the management of populations under human care with the hope that one day individuals can be re-introduced to their native habitat.
In addition, researchers have used samples to create the genomic tools necessary to combat the illegal wildlife trade, such as developing methods for species identification in the field. Samples from the extended Frozen Zoo have been invaluable in projects such as the Vertebrate Genomes Project and 200 Mammals Genome Project, which aim to create tens of thousands of reference genomes for vertebrate species.
Our samples have also been used in a wide variety of population genetics studies, such as in assessing genetic variation across lion populations in Africa. Many collaborators are also using samples from the extended Frozen Zoo in phylogenetic studies, such as in parrot phylogeography, and even in analyses of inheritable virus elements found in animals in the wild.
Although the resources of the extended Frozen Zoo are often shared with institutions around the world, Conservation Genetics also takes advantage of our own sample collection. We use samples from our extended Frozen Zoo to aid in our projects on a variety of species, such as California condors, pacific pocket mice, mountain yellow-legged frogs, red-ruffed lemurs, and northern white rhinos, among other species. Access to our vast collection of samples is an invaluable tool for Conservation Genetics in using genetic methods to monitor endangered species, contribute to their sustainability, and prevent their extinction.