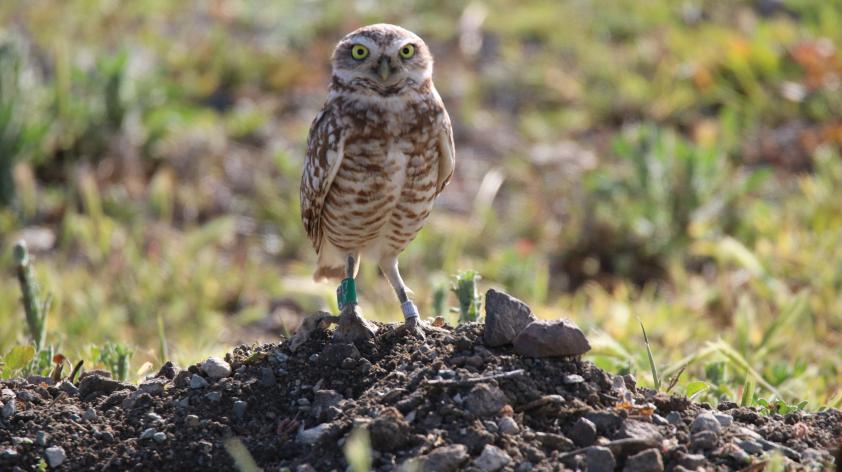 Bringing Burrowing Owls Online
Last fall I had the pleasure of interning at the San Diego Zoo Institute for Conservation Research (ICR) with the Burrowing Owl (BUOW) team to help develop a new website for their programs, and to help compose content that translates the multitudinal aspects of a large conservation project into the story of this amazing local species.
The biggest takeaway? A project that seems like it would be straightforward is so much more nuanced and complex than I imagined– and I'm not just talking about the website! There are so many facets to BUOW conservation that I barely scratched the surface.
Through this project, I feel like I experienced a true microcosm of the ICR's work; it is interconnected, with different teams' work overlapping and intertwining in fascinating ways, all working toward the common goal of ending extinction.
The BUOW team's comprehensive projects are far too vast for a single blog post, but they encompass everything from tracking individual owls and their outcomes (where do they go? what happens to them when their habitats change?) to ecosystem engineering to piloting a conservation breeding program.
They have developed artificial burrows to supplement areas where natural burrowers (locally, the California ground squirrel) are no longer present to expand potential habitat. They have cataloged plants that might inhibit habitat availability. They have found ways to encourage ground squirrels to move into new areas in order to create better natural spaces for owls, while working to change the public perception that ground squirrels are a pest species to that of ecosystem engineers.
They have also worked to shift the management perspective of these habitats from high-cost, high-intensity restoration to a simple and straightforward co-existence between the squirrels and owls just by annual mowing of nonnative grasses. Their work encompasses such a range that it can be challenging to streamline it into a simple and straightforward story.
The goal of the website, which will debut in March 2019, is to tell the story of BUOW conservation in southern California. (Webpage Now Available Here.)
It will be a place for the public to learn about who these owls are, what they do, and why they are vital to our local ecosystem. That level of connection, of understanding the narrative of a specific species, can make all the difference in helping people to care about conserving that species. It will also be a place for other researchers to find reports, blueprints for projects and burrows, and important research so that the entire BUOW conservation community can move forward more effectively.
Much like the program's multi-faceted approach, having a platform that covers the breadth of the ICR's BUOW program is essential for telling their story.
This is the story of saving burrowing owls. The pieces are woven across many places, intersecting and turning toward a central idea that this iconic species should be saved. The job is complex, and the outcome of each individual owl matters tremendously. The research started years ago and will continue for years to come. But with this kind of dedication, the chances for success can go up.
Joanna Volavka, AIP Student, Miami University & San Diego Zoo Global.