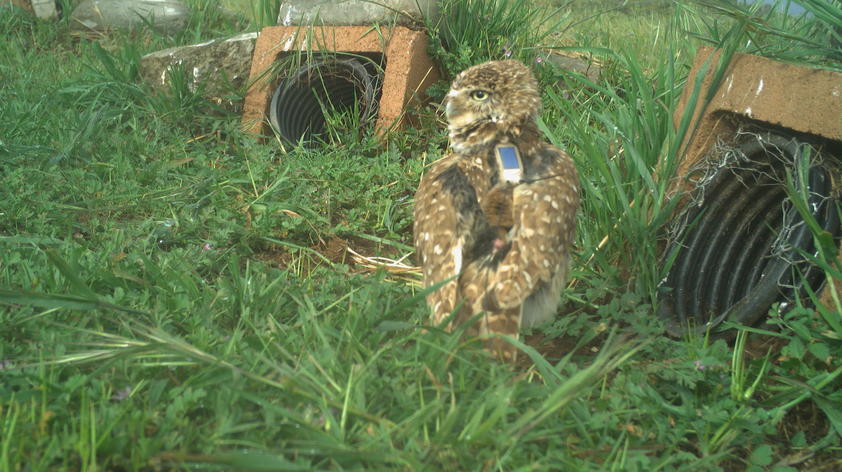 Burrowing owls wear backpacks too
Over the years, many populations of burrowing owls (BUOW) have blinked out across San Diego County, primarily due to habitat loss. There is currently a small population of burrowing owls in Otay Mesa, just north of the U.S.-Mexico border. The region is largely industrial, and while there currently are areas of open space, those areas are likely going to be developed over the next several years.
In an attempt to increase burrowing owl numbers in San Diego, San Diego Zoo Global has partnered with numerous local and state agencies to establish a new breeding node at the Rancho Jamul Ecological Reserve (RJER) in Jamul, CA since 2018 (see Training to Become Wild and Breeding Season is a Hoot!). RJER is protected and managed by California Department of Fish and Wildlife and contains grassland that is great habitat for burrowing owls.
When we reintroduce owls into the wild or to a new location, we use a variety of tools to help us understand their survival, reproduction and settlement. We want to answer questions like: Who is using this burrow? Who is mating with whom? How many chicks are they having?
To answer these questions, we utilize tools such as remote cameras, visual observations and, of course, GPS backpacks.
The idea of a burrowing owl in a school backpack sounds pretty cute, but these are no ordinary backpacks. The backpacks we use are a bit more scientific; we use GPS backpacks that give us location data we can collect remotely. We put GPS backpacks on a subset of the owls so we can better understand their behavior and monitor their movements, especially when they are not in range of our remote cameras. The backpacks we use are capable of transmitting valuable GPS data that can remotely provide us with the location data of a particular owl.
How is an owl chosen to be fitted with a backpack? We make sure that the weight of the backpack and the associated harness does not exceed 5% of the weight of the owl itself, so as not to interfere with the owl's normal activities. Because technology is always improving, we now have backpacks that are around the weight of a quarter!
The backpacks are solar-powered, which can make it a bit tricky when trying to monitor a species that is most active at night and spends a lot of time underground where there is no sunlight. We overcome this by only putting backpacks on males because they will generally be out in the sunlight more often than females, as they stand guard at their burrow entrances.
Another backpack feature we utilize is selecting the time interval we want the GPS to collect data. Burrowing owls are often in their burrows, so the solar-powered GPS backpacks can only send out so many points per day based on the input of energy from the sun.
We found a sweet spot that consisted of data collection at three times per day. We strategically chose 9:30 am and 4:30 pm, when the owls should be at the burrow, and 9:30 pm, during foraging activity. This allows us to match owl behavior and time so we can get the most from our data. From this point, the data are sent from the backpacks to satellites and then downloaded on our computer.
We can learn a lot from owl movements and behavior. For instance, with our most recent reintroduction we initially paired up non-related males and females like a burrowing owl dating game. Once reintroduced they can decide if they want to stay with the same partner or switch partners. Using the GPS backpacks we can see how they shuffle around. We can also see what burrow an owl is using, or if the owl is taken by a predator, a sad but natural occurrence that occasionally happens.
The high-tech tools we utilize help us answer questions about an important San Diego species. So next time you put on your backpack, think about your local burrowing owls!
You can learn more about the Burrowing Owl Recovery Program here. If you would like to help us with our research, you can be a citizen scientist and catalog camera trap images of burrowing owls by visiting our Wildwatch Burrowing Owl Project.