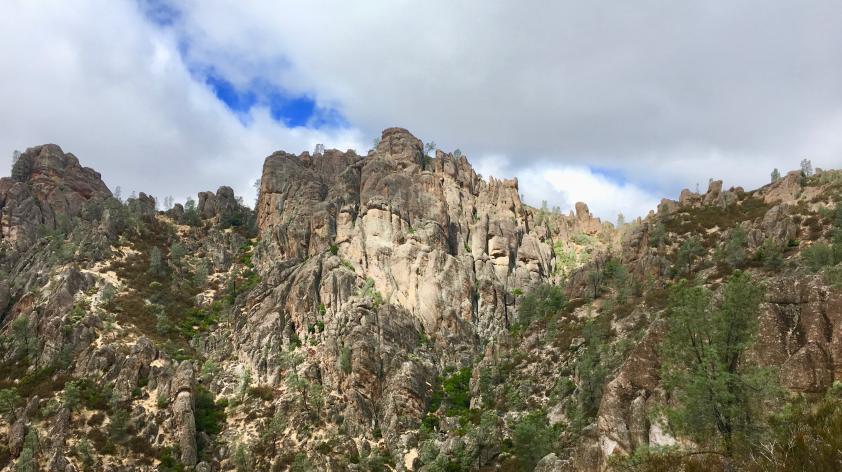 California Condor Field Trip
I feel the goosebumps crawling up my arms and down my legs as I sit in a small conference room filled with no more than 100 California condor field team members. These were the "celebrities" of the condor world and you could say this was a star filled event! A mixture of field crew (past and present), scientists, zookeepers and veterinarians were present to discuss this multifaceted conservation project. I sit quietly and listen intently as decisions that will mold the future of these magnificent birds are hashed out over coffee and pastries.
After two full days of talks and discussions we had the wonderful opportunity to explore Pinnacles National Park (PNP) with our own personal tour guides. Spotting a condor was not guaranteed, but I was hoping to view one soaring along the cliffs. I longed to see the distinctive white triangles on the underside of the charcoal black wings. As a Research Coordinator in Reproductive Sciences my day-to-day work with condors involves pipetting clear liquids containing condor RNA or DNA between tubes also containing clear liquids.
Sounds thrilling, I know, but we are interested in how chemicals in the condor's diet could affect their reproduction. Our lab is NOT interested in exposing condors to these chemicals, therefore in vitro experiments provide an excellent opportunity to answer our many questions without harming a condor. Seeing condors flying free in the wild during this excursion would be the ultimate reward!
While waiting in the parking lot for other members of the group to arrive, we spot a young condor perched high up on the pinnacles with its back to us. We needed to get closer to see if we can visualize a tag or catch the GPS signal to ID the bird. As we eagerly follow PNP condor field team members up Condor Gulch trail on this foggy August morning we stop periodically in search of condors and any other winged species that might peak our interest. Turkey vultures attempt to trick our eyes but the sheer size of a California condor masks that of any other raptor we will lay eyes on during the hike.
Halfway up the mountain we have a perfect view of the Pinnacles where the juvenile condor is perched. As the sun is coming out from behind the clouds we are all happy to stop and take a break. Our guide went to work setting up the scope and before grabbing a sip of water or taking off our packs we all instinctively pull binoculars to our faces in search for more condors amongst the cliffs. Once the scope is honed in on our lone condor we all take turns getting a better view and it is quickly apparent that the binoculars did not do him justice. As I peered through the spotting scope the black figure stood out perfectly against the grey, cloud covered background. I let next person in line take a look and my boss nudges me and says "sinister, isn't he?" Unfortunately, yes he is a sinister looking creature. When you spend your time foraging on dead animals you kind of have to look a bit like the grim reaper.
After everyone takes a peek we focus in on another bird lying down on the rocks and harder to see as he is tucked in behind the rocks. As soon as we take the scope off the first condor he decides to spread his wings and show off the tag we were desperately trying to identify. Immediately we shift our focus back to the first condor and he daintily folds back his giant wings concealing the tag from our view once again. "They like to mock us", says our guide laughing. Fortunately for us he cannot outsmart the GPS system and it pings in on his number. Condor #745 a wild born male around 3 years old. In 2010 his mother #310 (PNP) and father #219 (Ventana Wildlife Society) were the first condor pair to successfully nest in the wild, producing their first chick #574. Only 14 years ago condors were re-released into PNP so experiencing a wild born and raised condor flying free in the park was an opportunity I will never forget.
As we take our final strides up the mountain to get a view from the peak the sun continues to push out from the dense clouds. We reach the summit of our hike just as the turkey vultures begin to soar near the pinnacles. Briefly we catch a final glimpse of condor #745 soaring before he disappears over the ridge. Reminding us of our luck see such a magnificent creature. Now back in the lab I periodically check in on the wild condors via condor cam (http://cams.allaboutbirds.org/channel/49/California_Condor/) as a reminder that my work goes far beyond moving clear liquids from tube to tube.