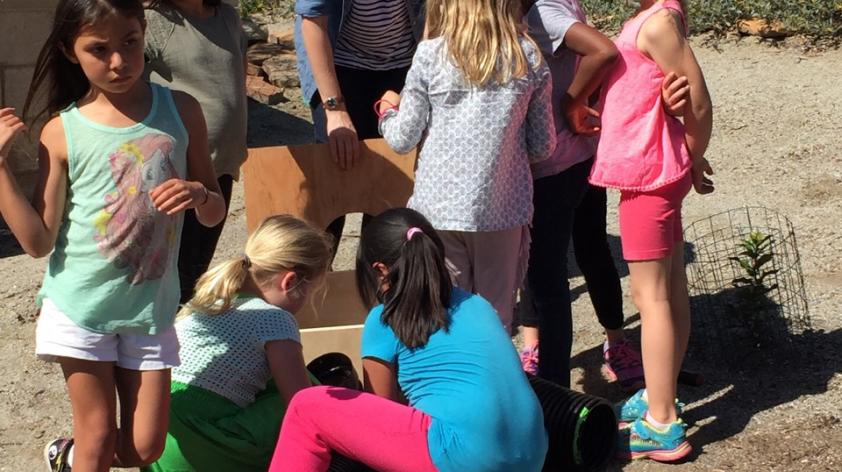 From Classrooms to Conservation: Local Students Take Action to Help Burrowing Owls in San Diego County
Being a field biologist can be a very insular lifestyle. We spend a lot of our time outdoors researching animals (often during very odd hours of the day and night), and in the office preparing for another week of work in the field, and we interact almost exclusively with our fellow teammates. However, the conservation research we do is only as valuable as our ability to share the information (and our love of animals) with everyone else – especially children.
This year, the second grade classes of High Tech Elementary in Point Loma, CA committed an entire semester to learning about local species conservation, and made burrowing owls the focal species. The San Diego Zoo Institute for Conservation Research partnered with teachers at the school to provide an introduction to a variety of local species that we are currently studying, including bighorn sheep, mountain yellow-legged frogs, and, of course, burrowing owls! The kids (over 60 of them!) visited our offices and labs at the Safari Park, and learned more about these local species and what we are doing to help them thrive.
For the burrowing owl section of their tour, the kids learned about why and how we build artificial burrows for burrowing owls that need homes in conserved areas (see SDZ Cribs: Burrowing Owl Edition.) They did their part to help owls by measuring out different lengths of the tubing we use for the tunnels to the nesting chamber that gets buried underground. Then they got to put together the "puzzle" of pieces we put out that make up the entire artificial burrow. We spent time talking about what made burrowing owls unique as a species, and how because of habitat loss and fragmentation, we are working to make more suitable habitat for them in conserved lands (Field Notes from Super Bloom 2017 and We'll make the cover, you make the burrows.)
A month later, we were invited into the classrooms at High Tech Elementary to give a presentation about burrowing owls, and the critical information that we are learning about them. The kids asked really smart and thoughtful questions, and it was so neat to see their brains working through what we asked them!
The kids wanted to do something that would have a direct positive impact on burrowing owls in San Diego, so they decided to do a fundraiser at the school by selling calendars with hand-drawn pictures of burrowing owls. After designing the calendar with the help of their teachers, they hosted a party after school for their families and sold the calendars to raise money for our research! We are so excited, not only because that money will go directly into local burrowing owl conservation research, but because so many kids and their families were excited about burrowing owls and other native species!
Education is the foundation of conservation action. A person can't care about something they don't know. Without education, we can't expect people to just know about the place they live. Few people know that behind all the buildings and suburban sprawl, Southern California is one of the most biodiverse places on the PLANET! San Diego County itself has more biodiversity than any other county in North America. The mild Mediterranean climate and varied landscapes create numerous unique habitat types that native species can call home.
That is why we at the San Diego Zoo Institute for Conservation Research find it incredibly important to share our conservation stories. When people visit the Zoo or Safari Park, when researchers speak to kids or at conferences (and when people like you read our blogs!) we hope to ignite a spark for conservation that may not have been there before. Every person can make a difference, no matter how small, that can contribute to improving our world through species and habitat conservation.
Let us know in the comments what YOU are doing to help conservation!