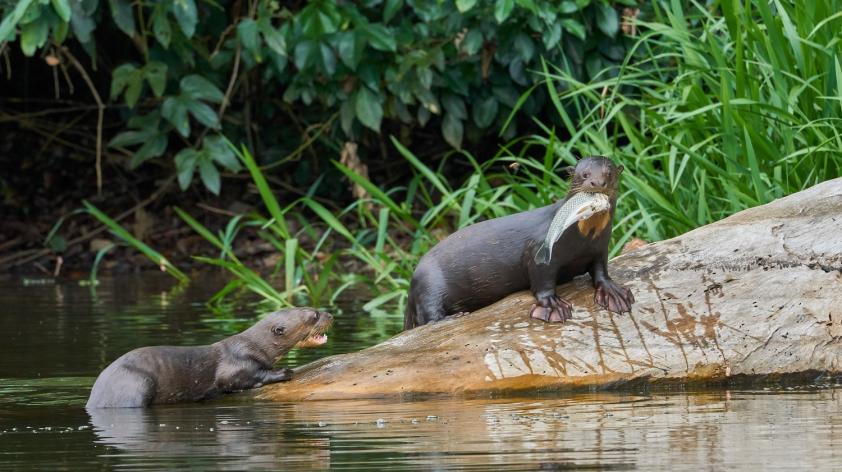 Cocha Cashu's Tiny Giants
For me, visiting Cocha Cashu Biological Station has become an annual pilgrimage. Bi-annual, if I'm lucky. This time I'm accompanying a large number of people that includes other Cashu staff, Peruvian journalists, a San Diego Zoo Global film/photography team, and, most importantly, a select group of international scientists who are travelling to Manu National Park by special invitation, to participate in a three-day workshop that will help to guide the way into the Station's future. For we are celebrating Cocha Cashu's 50th anniversary this year and are eager to plan for the challenges and opportunities of the next half century.
What follows is a whirlwind of sights and impressions and activities, both en routeto the Station – one day by road from Cusco to Atalaya, then two days by boat along the Madre de Dios and Manu Rivers – and at Cocha Cashu itself.
We rise early, explore the trail system around the Station or take a traditional wooden canoe out on the lake, then return for a two-hour workshop session. Lunch is followed by another session of brainstorming and valuable feedback, and a second opportunity to appreciate the forest and its wildlife.
After a swim or shower, the characteristic shout of "Rancho listo!" tells us it's dinnertime. By 8 pm we are all thinking longingly of our tents.
Days at Cashu are eventful and intense; every minute is a sensory feast. And the heat and humidity can be exhausting for those who are not yet acclimatised.
One mid-morning, in need of solitude, I slip away for a couple of hours. As always, I head straight to the lake. I have been following the fortunes of the resident, endangered giant otter family for many years and make a point of catching up with them every time I visit Cocha Cashu. Apparently, the group was seen some time ago with tiny cubs, but the babies have not been spotted for several weeks. Are they still alive?
From experience I know the best way to find out is to spend time with the family after the first morning hunting session.
Giant otters emerge from the den at about 5:30 am and spend the early hours of the day urgently foraging for fish. Very young cubs do not join these hunting excursions but remain in the den, sometimes with an older sibling as babysitter. Only once hunger has been mostly satisfied do the otters turn to other activities, such as grooming, visiting latrines, or heading back to the den to check on the cubs. This is also when youngsters are encouraged to venture from the den, albeit briefly and always under the watchful gaze of family members.
At 11 am I am stationed some forty metres from the den, trying to keep the canoe from drifting in the slight breeze. The entrance is clearly visible but not much else: dense vegetation surrounds it. I will only have a tiny window of opportunity to see the cubs as they emerge. If they emerge.
The sun is a hot hand pressing on my shoulders and sweat trickles down the small of my back. The otters pass me as they head to the shore and soon I observe them nosing through submerged branches and leaf litter. Will they trust me enough to bring the cubs into the water? There's the alpha female, Footsie, identifiable by her long teats, climbing up the bank and entering the den. I stare fiercely through my binoculars, afraid even to blink.
Two small figures appear in the entrance, one on either side of their mother. They hesitate and I clearly see their blunt muzzles, slightly opaque eyes, and floppy bodies. About six weeks old? Footsie looks at me but seems relaxed.
Then they are gone, and I hear three splashes.
I can't see them but it's enough to listen to the thin, high, breathy squeaks of the babies and the reassuring, purring hums of the other otters as the family plays gently in the deep, tangled shade of the shallows. After fifteen minutes, I quietly turn the canoe and paddle away, satisfied that, for now, all is well with Cocha Cashu's seven giant – and two not-so-giant – otters.
The Station's future is their future too.