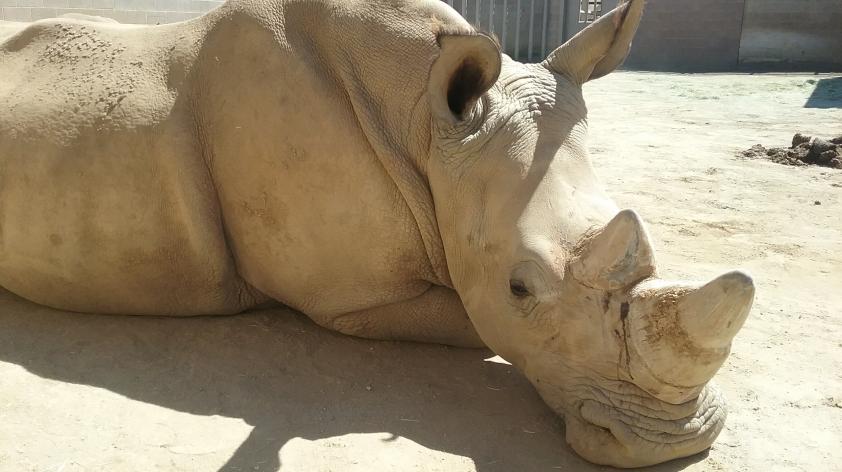 The six southern white rhino females, brought to the San Diego Zoo Safari Park to live at the newly constructed Rhino Rescue Center (RRC), and I have a lot in common – and nothing at all. The differences are obvious: I do not weigh two thousand kilograms, I do not have two horns protruding from my face (although my nose puts up a good fight), I do not have tough leathery skin (but give me a few more years in the sun), and most notably - my life is not in danger just for having that second attribute, a horn. Our similarities are subtle: we have never had offspring, we enjoy eating (a lot), we adore the keepers at the RRC, and we are new to Southern California. My trip has been much shorter in distance than theirs, but longer in time.
I started down this road around 10 years ago, although I had no idea this is where it would lead. After an undergraduate degree in Animal Sciences I stayed to complete my Masters in Reproductive Physiology where I made the shift from domestic to exotic species, studying the common eland (an African antelope species). Later, I worked in a human stem cell lab at Tulane University. Life in New Orleans is really fun, but I needed more from my work, so I decided to pursue a PhD with the Smithsonian Conservation Biology Institute. The next four years studying Przewalski's horse solidified my need to work with endangered species.
All the while the gears were turning to take the Northern White Rhino Initiative (NWRI) from concept to reality. As my graduate studies came to a close, the NWRI was gaining traction and facilities were being built. While I was furiously writing my dissertation, the southern white rhino females were brought into bomas in South Africa. While I was running (and re-running) samples, the RRC was under construction and yards were prepared for rhinos. While I was in the last meetings before my dissertation defense, the females were on a plane from South Africa to San Diego. And while I was defending my dissertation the females were meeting each other and the keepers for the first time. I arrived shortly after in January of 2016.
We were both (the six RRC females and myself) brought here to be a part of the NWRI, but their role is so much greater – and they have no idea. They form the original group of rhinos that will enable this project's success. They will be surrogate mothers, eventually carrying the first northern white rhinoceros embryos through a 16-month gestation. They are the part of the project that no science or lab can replace. And it is my job to help them do that.
I realize it seems silly, but I identify with these rhinos on some levels. We are both here for something bigger than ourselves - that can be said of everyone that works at the Safari Park. People like my boss, Dr. Barbara Durrant, have been doing it for years. But our story here has just begun, and I am excited to see us all (the rhinos, the project, myself) grow together.