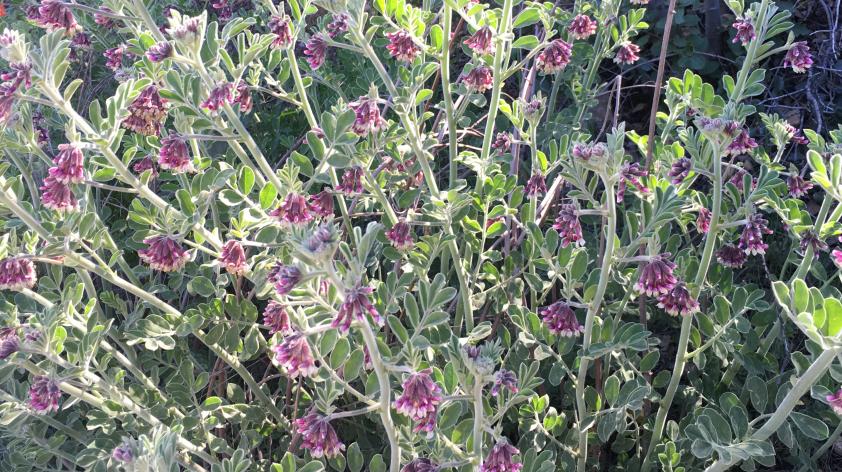 Conserving the rare plants of Otay Mountain
This year we have focused most of our seed collection efforts in the southern-most extent of San Diego County. The area around Otay Mountain is very unique floristically and is home to many plant populations found nowhere else in the world.
Otay Mountain is an iconic peak in southern San Diego County, visible to the southeast from downtown. At 3,566 ft, it is the tallest peak in the San Ysidro Mountains. These mountains extend across the boarder slightly into northern Baja and are considered part of the Peninsular Range, which extend south to the tip of the Baja Peninsula.
The San Ysidro Mountains are the remnants of ancient volcanoes and are derived of metavolcanic soils with a unique chemistry. It's thought this unique soil composition is a driving force that has led to the establishment of so many unique plant populations. The California Native Plant Society lists at least 37 plant taxa found on Otay Mountain as rare, endangered, or threatened. We have made over 15 seed collections from rare plant populations in this portion of the county this year. I'll be touching on many of these species in the coming months, but here I'll discuss a few of the rare plant populations that are truly endemic to this area. These plants have a very small range and possibly specific biological needs, such as soil chemistry or pollinators, that limit them to the area surrounding Otay Mountain.
Ceanothus otayensis is known as the Otay Mountain lilac. This critically imperiled shrub is very distinct in the genus, with a shorter growth habit and small, thick leaves. As its species name implies, it is found almost exclusively on Otay Mountain, with small populations on neighboring San Miguel Mountain and at least one population known in northern Baja, just across the boarder from Otay Mountain. Interestingly, a very small population was recently discovered roughly 20 miles north of these populations. Soil studies have shown that this small population is growing in soil almost identical in mineral composition to soils found on Otay Mountain. It's unclear if this population migrated to this location, taking advantage of the similar soil type, or if it is a remnant population, from a time when the species was more widespread. We made two collections from populations on Otay Mountain this year.
Arctostaphylos otayensis is known as Otay manzanita. Like the lilac discussed above, this beautiful shrub is found almost exclusively on Otay Mountain, with small populations on San Miguel Mountain. It is unclear how far this species' range extends into Mexico, but it is believed to be present on the small portion of the San Ysidro Mountains that extend into Baja. Like most manzanita species, Otay manzanita has beautiful red bark and small fruit that vaguely resemble little apples. It is an imperiled species due to increased fire frequency and human development within its small range. We made two seed collections from populations around Otay Mountain this year.
Hosackia crassifolia var. otayensis is the Otay Mountain lotus. It is known only from Otay Mountain and a single population in northern Baja. It grows in disturbed areas and openings in chaparral, and is critically imperiled due to its limited range and from human activities, such as road grading, firebreak maintenance, and trampling. We were very pleased to make a healthy seed collection this year from one of the few populations on the planet.
To read about some of the other San Diego County plants we've conserved as active participants of the California Plant Rescue, click on the following links:
http://institute.sandiegozoo.org/science-blog/california-plant-rescue
http://zoonooz.sandiegozoo.org/2016/01/29/saving-san-diegos-rarest-plant-species/