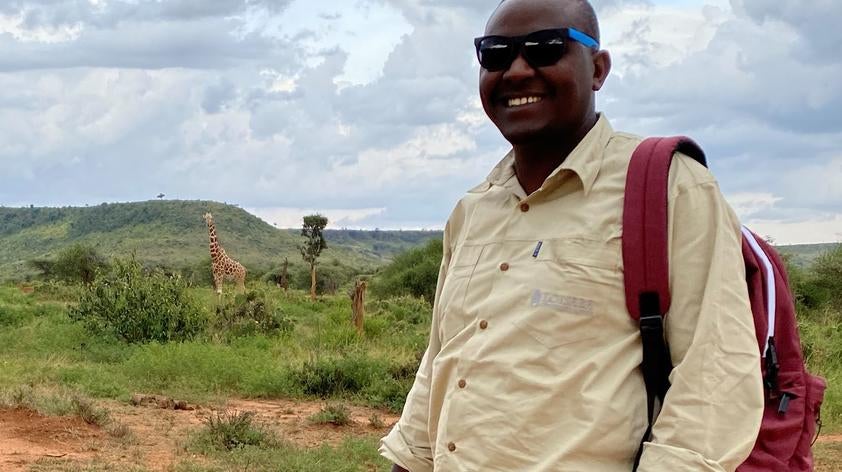 Covid-19: Impacting research and livelihoods in Kenya
I work as the Conservation Coordinator for the Twiga Walinzi ("Giraffe Guards") team in northern Kenya - a team 14 local pastoralists, 3 in Loisaba Conservancy and 11 in Namunyak Community Conservancy.
Growing up as a pastoralist boy, I have always had the passion to help in the conservation of wildlife and be a person who will always advocate for wildlife and livestock coexistence. The thought of being able to help animals was, and is, a dream of mine. I want to educate people about how we can tackle the threats that animals are faced with. My ultimate goal has been to have a lifelong career dedicated to conservation. I am aware of the challenges the world faces between humans and wildlife, and without conservation, ecosystems can fall apart causing the loss of both.
The global pandemic caused by Covid-19 has just inflicted a new blow to the protection of our natural resources. This has made people who work in wildlife conservation go home and be with their families, leaving the conservation work left for another day.
With the number of people with Covid-19 increasing daily in Kenya, this situation has greatly impacted our everyday lives. The current number of people with Covid-19 in Kenya currently stands at 184, with 12 individuals now recovered and 7 individuals unfortunately succumbing to the disease. Thankfully for our teams, the majority of the cases seem to be restricted to Nairobi, Mombasa, Kwale, and Kilifi – not too close to us.
However, to limit the spread of the virus throughout Kenya and in conservation related areas, authorities have included the closure of national parks as a social distancing measure. A health measure that indirectly puts wild animals, especially elephants and rhinos, at the mercy of poachers, who target them for their ivory and horns.
Additionally, by closing the national parks, the Kenyan government has effectively suspended ecotourism, one of the three largest foreign exchange earners in the Kenyan economy, from which the funds needed to protect the parks are derived.
Not only does this effectively suspend a major form of revenue for our country, but as part of its integrated conservation strategy, the Kenya Wildlife Service (KWS) has involved local people in wildlife protection by providing jobs as trackers and eco-guards in the national parks. Now, due to the closure and lack of revenue, a lot of these wildlife guardians are unable to go to work and thus, receive an income.
At home, people are apprehensive about the spread of the virus into the rural area. Some pastoralists are worried that the virus might affect their livestock, but others are not worried at all, thinking that they will take traditional herbs like Crotonsp., Commiphores sp., and Olea sp., to curb the virus.
A primary problem in our communities, besides the lack of employment, is access to basic commodities in our villages, with the very partial transportation of goods across the counties. There are many challenges of accessing basic goods like ugali flour, maize, beans, vegetables, and the most required, hand sanitizer.
Additionally, as most of us continue to keep livestock as a means of income, there is also now a problem of where to sell livestock so that we are able to buy the required goods. While we are lucky that a high number of COVID-19 cases have not yet come to northern Kenya, the indirect threats of the virus are very worrying.
The Twiga Walinzi team has been at home now for the last 4 weeks. While we feel good to be with our family, we feel deeply saddened that we are not seeing our friends, the giraffe. I feel I have giraffes as part of me and I am part of them. Our team is daily calling asking for any information on Covid-19 and the state of the nation so they can go back and be with giraffe, to study them, understand them, and most importantly, protect them.
We really hope that this pandemic comes to an end soon and people can go back to their normal life, as we believe the giraffe need to see us and we also need to see them.