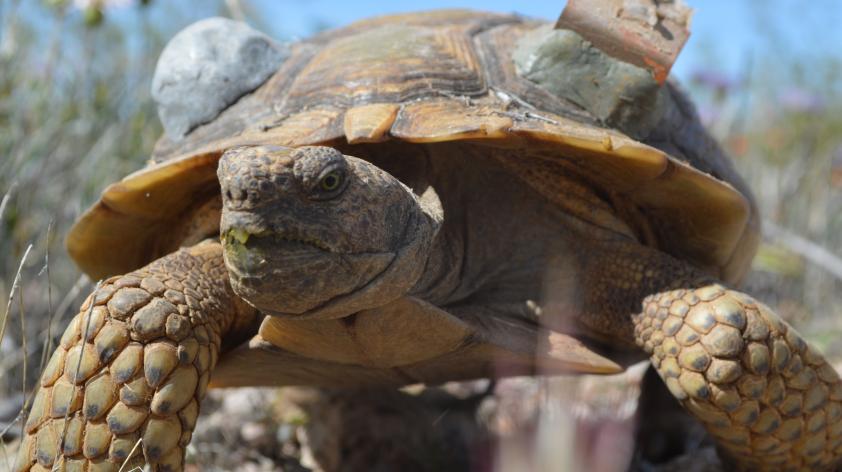 As a wildlife biologist my absolute favorite parts of working in the desert are the native denizens, aka the creatures. Once upon a time, I thought the desert was a swirling inferno of heat and emptiness. While I am still a firm believer in the inferno-like qualities of our beautiful American deserts, I have embraced that they are hardly empty space. Rather they are crawling with creatures who, through millions of years of adaptive evolution, have rendered themselves compatible with desert lifestyles and also often difficult to find.
One of those creatures is the enigmatic desert tortoise, a species that calls the Mojave Desert of Southern California and Nevada home. Now, if you ever encounter one of these animals in the wild, you are quite likely to be enchanted by them. They display little fear in the presence of humans, often approaching you to sniff your feet and rest in your shade. They will do this so much that some times it is challenging to get pictures before they are up in your camera's business. No matter how friendly they are, you should always remember that these are wild animals and they are happiest staying that way!
We, at the Zoo, have been working on fighting population declines of the desert tortoise for a number of years. At first we started in the business of desert tortoise conservation by managing tortoises living at the Desert Tortoise Conservation Center in Nevada. This included meticulously structured returns of tortoises that had been displaced from the wild for one reason or another back into the wild, also called reinforcement translocations in conservation lingo. In order to understand whether these translocations can help boost wild populations we also attached various gear to them. These terminator tortoises sport radio transmitters that help us locate them regularly and GPS loggers that take their coordinates regularly so we can gain a thorough understanding of their movement.
Although, the Desert Tortoise Conservation Center had to close due to funding shortages, San Diego Zoo Global still maintains a research program studying these animals. By continued monitoring of translocated adult and juvenile tortoises, we hope to help improve the science of translocation for this species. We are also working hard to identify what kinds of habitat help baby tortoises survive the harsh desert conditions.
Of course, this means lots of tracking baby tortoises as well to measure growth and survival in different places. A major benefit of using these translocated juveniles is that we don't have to find them before we can put radios on them, because they are masters of blending into their environment. We, the tortoise crew, go into this field season hopeful that the tortoises that we continue to study will lead us to answers that promote their continued existence as a wild animal for a long time yet.