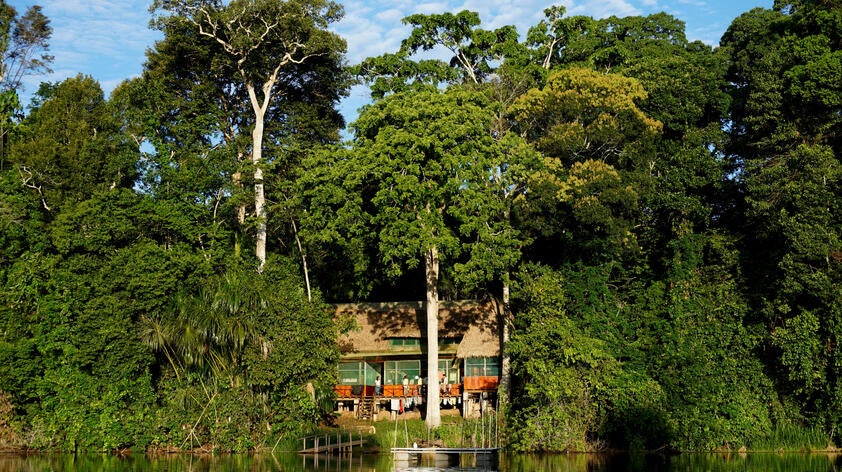 Distance learning sessions with Maganiro Matsiguenka
As the coronavirus pandemic swept the world in early 2020, the communities of the Peruvian Amazon grappled with what the pandemic meant for their way of life, with their remote, yet close-knit communities so intimately linked with the natural world. With the challenges of quarantine in place, teachers turned to distance learning sessions to bring an understanding of Covid-19 to the native Matsiguenka high school students of the Manu region.
I am a biologist by training, specifically a researcher on ecology of species interactions and collective behavior. But more importantly, I am indebted to native and local people for the knowledge and perspectives of life they have selflessly shared with me. This invaluable knowledge enriched my own views of life as a conservationist over the last 19 years. The least I can do is share in return! When I heard of this distance learning program, I was delighted to be their first invitee.
"Understanding Immunology, Nature and Us, and COVID19" was the title of my three-part talk, and here I'll share my experience teaching online with these students.
March 6, 2020
An epidemic characterized by severe respiratory infection symptoms caused by COVID-19, which continues to threaten the world, took the native Matsiguenka communities of Manu National Park by surprise. It was so sudden that, even without fully understanding the reasons behind what they may perceive as strict measures, they complied, because, "It will be temporary, won't it?" Those who understand that this pandemic may impact their lives even beyond next year, especially if a vaccine is not found, may find themselves asking, "What about our jobs outside the Park?" "How will we continue supporting our sons and daughters studying all over Peru, near or far?" "What will happen with our Casa Machi ecotourism lodge?" "Yes, we can feed ourselves, and if we must isolate, we will, but until when?"
This confusion, understandably, is even greater for a group of Matsiguenka high school students who left their homes in search of knowledge to continue high school in Boca Manu, a town at the doorstep of their Manu National Park, a town that is a leap closer to the Western world that brings them this virus. Without complete awareness of the risk, the Matsiguenka may support the decision that regular, pre-COVID socio-economic activities should resume the moment the Peruvian quarantine is over.
The spread of disease is happening so fast that several measures need to be implemented simultaneously. There is one measure that, although very important, is often neglected: communication and access to information. If we "Western people" are to respect the Matsiguenka's right to make decisions, communication is more important today than ever. Full access to information and understanding of these phenomena are crucial, allowing them to make informed decisions for themselves. And I had the great opportunity to begin with 16 bright Matsiguenka high school students, who, in turn, may spread the word to their own communities. Let's do it!
These students live in "Maganiro Matsiguenka", a boarding house in Boca Manu. "Maganiro Matsiguenka" means "We are all people" and is meant to be a home away from home for them. Maganiro Matsiguenka is run jointly by the Manu National Park Service and one of their ally NGOs. Due to COVID19, students are following staying-home and social distancing protocols. Their educators and tutors work hard to make the best of this situation and had thought of an excellent idea: an intercultural program of long-distance sessions. Why didn't they do it before? Until a few months ago, there was no internet in this part of Peru and the students have one single desktop computer.
Matsiguenka use bow and arrow to hunt and are excellent fishermen. They complement their meals with products from their farms and possess a rich knowledge of medicinal plants. They speak their native language Matsiguenka and few speak Spanish proficiently. Because of their minimum contact with the Western world, the Matsiguenka are immunologically vulnerable to respiratory diseases. Yet the Matsiguenka also have many links to outside communities and now several of their sons and daughters attend Peruvian universities.
COVID-19 is a zoonotic pandemic that owes its origin to habitat destruction associated with wildlife trafficking, which is associated with fast urbanization in wildlands. This particular one originated in China. What does COVID-19 have to do with the Matsiguenkas in Manu, Peru? Should they be concerned about their hunting habits? Once these sessions are over and discussions fostered integrating their own traditional beliefs, they will have answers to these and other matters concerning their coexistence with wildlife and the Western world.
April 14, 2020
It is the 30th day of the Peruvian Quarantine, the first online session linked Cusco, Puerto Maldonado, Boca Manu and Cocha Cashu Biological Station. Via Zoom we connected education coordinator Karol Mejia, Matsiguenka speaking instructor Maria Elena, 16 students and their two tutors, Raul and Jazmina, and me, respectively.
When the first day arrived, I was sitting at my desk at Cashu Biological Research Station in front of the computer, and suddenly I could hear their chatting, and immediately after, see their faces. There were 16 teenagers gathered in one room, more girls than boys, they looked excited, and it turned out that they were not watching a laptop screen but a projection on the wall. Many of them greeted me even before I was introduced as some of us knew each other, and I will remember this fondly as one of the warmest welcomes ever.
We started our journey discussing our immune system and cells, disease agents, and when our defenses fail, how vaccines work, what factors promote zoonosis, the coronavirus zoonosis, and how the flu compares to COVID-19. We then explored the relationships among nature, wildlife, humans and zoonotic pandemics.
I gathered feedback from the classes when hearing their laughter at some scenes from the video clips, or from their answers to the questions I asked or challenges I presented. After my sessions, the in situ tutors based at Maganiro Matsiguenka, Raul and Jazmina, met with the students and together with their Matsiguenka interpreter, they discussed the students' questions, doubts and comments.
Raul Icaroa is Ashaninka, born in Atalaya-Pucallpa, and professional in Intercultural Education; Jazmina Masahuari is Harankbut, born in Shintuya- Madre de Dios, a technical professional in administration with experience in primary education; and Maria Elena Chinchiquite, a native Matsiguenka, living in Yomibato. They all virtually gathered from different areas, to the north, south and at the heart of the MNP, respectively. The paths of these educators with such diverse backgrounds crossed at this very important moment for the present and future of intercultural education.
Thanks to them, I got feedback about the students' learning process after the class. I learned for example, the students asked "is the 'dengue' [fever] also a case of zoonosis?" (I had introduced other cases of zoonosis, but cases with a vertebrate intermediate only.) Also, when reviewing factors that could lead to zoonosis, they made comments such as, "our chickens are mixed up with our dogs and pet spider-monkey, and many times pets have ectoparasites and look unhealthy, yet still we all hang out together." They got it! They were using the lessons and applying them to their own context.
These sessions were only possible by joining efforts between the guest instructor, the Matsiguenka interpreter, the education coordinators, during and between the virtual classes; through the use of Zoom technology, PowerPoint lessons, customized video clips; promoting separate in situ discussion sessions between the students and their tutors, using workbooks to review concepts and vocabulary; and finally joining everything with enthusiasm.
As is always the case, the teacher became the pupil, and I have a list of new topics that I am sure we will all enjoy in the next classes.
Toward "Aprendo en el Parque Nacional del Manu" (Learning at the Mnau National Park)
Since June 14, on the 90th day of national quarantine, the challenge took a turn: distance learning with intercultural components will go beyond Maganiro Matsiguenka to include other local schools in the Manu National Park.
The process had just begun! Distance learning is proving to be an essential and important tool for our remote communities. By July 20, San Diego Zoo Global Peru (SDZG-Peru), Frankfürt Zoological Society, the Peruvian Educational Local Institutions and the teachers themselves are all working together to bring education closer to the realities of the Manu citizens, and we are busy structuring units in Science, Environment and Health (SEH), as well as Children Rights and Language and Communication. If you have ideas you want to share with us in this context, please contact me.
We are excited! Please wish us success!