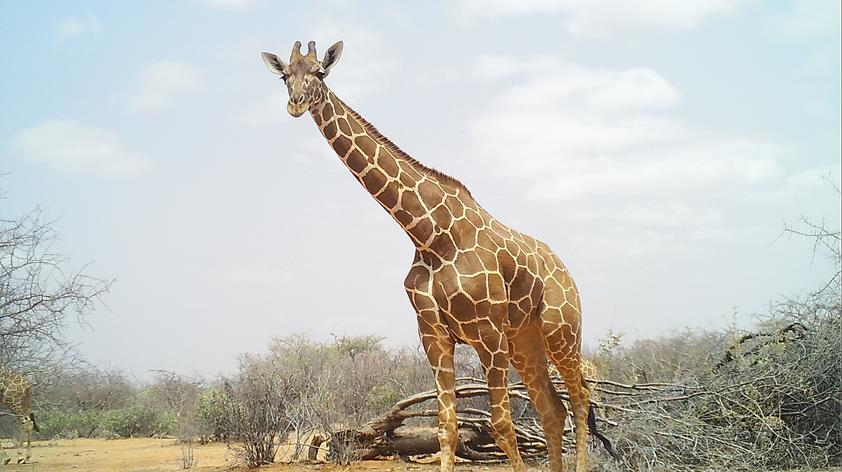 Dream turned reality thanks to Zoo fellowship
There are relatively few instances where we can look back and say that something truly altered the course of our life, career or personal. Many times, there are opportunities that open doors, but on a rare occasion, there are those which create a domino effect and impact your whole life moving forward.
I have been lucky enough to experience one of these opportunities, and it is all thanks to my research fellowship at San Diego Zoo Global's Institute for Conservation Research.
I have always been passionate about wild animals and, growing up in San Diego, the Zoo was my very favorite place to go to learn about the animals that had captured my heart, particularly the large African mammals. My very first job was at the Safari Park and I even had the opportunity to participate in the Zoo's InternQuest program during my final year of high school.
So it's no surprise that the influence of the San Diego Zoo led me to attend college and pursue a degree in Wildlife Conservation Biology! Although there had been a clear theme in my life surrounding my passion for wild animals, it wasn't until halfway through my undergraduate degree that I figured out exactly how I could turn that passion into a career. Specifically, it wasn't until I was accepted as a J.W. Sefton Foundation Research Fellow that I realized just how I could use world-changing science to make a different for wildlife.
Beginning my fellowship at the Institute in the summer of 2018, I was not entirely sure what I would be doing, just that I would be working with the Population Sustainability team on their giraffe conservation project. As someone who has dreamed of working in wildlife conservation in Africa her entire life, this alone was a pretty exciting start! Upon introduction to the team I was briefed on the large-scale camera trap project that I would be working on for the summer.
Throughout my fellowship, I was largely focused on analyzing camera trap data that had been classified by thousands of volunteers via the citizen science site, Wildwatch Kenya. I was able to confirm the classifications of giraffe and other key species, including pastoralist livestock, in order to produce comprehensive maps illustrating where giraffe were being recorded across the two study sites in Kenya. This allowed us to reinforce the importance of mapping wildlife distributions in order to understand how they interact with other animals as well as people in the region.
The culmination of my project, after analyzing nearly half a million images, was an interactive GIS StoryMap that is used to update the public on resulting spatial distribution comparisons of giraffe and livestock in Kenya.
Little did I know, wrapping up my time at the Institute would be the very beginning of the opportunities that I would have in the world of conservation science.
Going into my junior year at Texas A&M, I was submitting paperwork to receive internship credit from my fellowship when one of my professors asked if I would like to come on as a research assistant for his lab. As it turns out, they were offering me a paid position to manage their camera trap data from a wild game camera project, and, thanks to my fellowship, I happened to have the perfect experience for it!
I have since worked with Dr. Barboza's lab through the conclusion of my senior year at Texas A&M, growing my passion for spatial data analysis and mapping.
I was able to present my project results from the Institute at the 2019 Texas A&M Student Research Week, where I received First Place Undergraduate for Agriculture and Life Sciences.
Shortly after attending this conference, I met Erin Buchholz, a PhD student in my department who has been working with spatial analysis of elephant and human interaction along the Okavango River Delta in Botswana. She asked me to co-author a paper with her analyzing elephant movement and resource use, which we just submitted to the African Journal of Ecology.
This project, very similar to the work that I was doing as a fellow, has furthered my interest in mapping socio-ecological relationships, the results of which can provide essential knowledge for community-based conservation efforts.
Now a college graduate, I will be continuing on to complete my Master's in Biology with Boise State University's Human Environmental Research department. I will be focusing on the spatial ecology of large carnivores in North America and how mapping human-wildlife interactions can provide critical insight into conservation and conflict mitigation efforts.
My hope is that through further developing my spatial research skills, I can pursue my ultimate dream of being a wildlife conservation researcher in Africa, working to produce solutions to the growing issue of human-wildlife conflict in that region.
Looking back at my experience with San Diego Zoo Global's Institute for Conservation Research, it is funny to think of how many doors were opened the second that I became a fellow.
Furthermore, I find it incredible to see the ripple effect that experience has had on my career and broader life purpose. Before my fellowship, all I really knew was that I was potentially interested in conservation research (and honestly a bit terrified of spending my life in a cubicle!).
Now, I not only have the Institute to thank for providing me with a specific and directed research aspiration, but for providing me with the tools to become a conservation researcher myself. I can only imagine how much further this fellowship experience will take me, but I know that this is just the beginning.