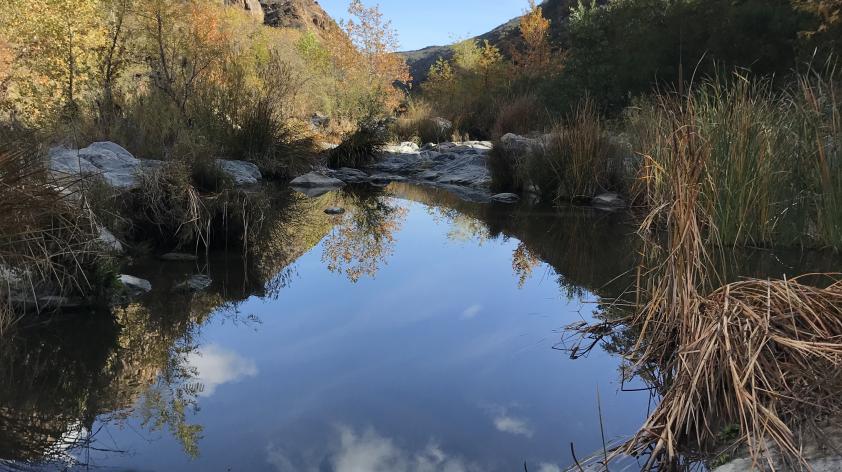 Forging connections to foster youth environmental stewardship
Many of us in conservation education fields regularly lament the disconnect that seems to exist between today's youth and nature - a chasm that bodes ill for the future of conservation.
I am loath to admit that my own children spend way less time outdoors than I did in my youth where many hours were spent wandering the woods behind my house or biking miles away (without a helmet… gasp!) to explore a newfound swimming hole. When one of the big box superstores tried to open in my small college-town it was the subject of lively debate at my high school, many students distraught over the implications to the wetlands located on the proposed site.
In contrast, relatively few high school students in my community of Temecula, California are aware that the name of one of the high school mascots, the Puma, is synonymous with Mountain Lion, nor are they aware of the challenges that face its population in the surrounding mountains. For an area of the country that boasts such astounding biodiversity, my own lack of awareness of what is in our "backyard" is part of what inspired me to join the Advanced Inquiry Program through San Diego Zoo Global and Miami University. It also helped shape my Master Plan, which is focused on connecting youth to local conservation.
During the fall of 2018, I had the opportunity of interning with the Santa Margarita Ecological Reserve (SMER), a 5,000-acre biological field station run by San Diego State University that straddles northern San Diego and southern Riverside County. While technically closed to the public to protect both the ecosystem and current research taking place there, SMER does interact with the public in adherence to its dually-focused mission of education and research.
They offer opportunities for the public such as docent-led hikes, Science Days focused on water quality testing and volunteer/training opportunities. The Reserve is biologically unique in several ways, including the combination of chaparral, coastal sage scrub and riparian habitat resulting from the confluence of the Santa Margarita River at its northern boundary and the habitat connectivity that leads to the Palomar Mountains to the east. Still, similar to most biological field stations, the local community is not as aware as it should be of this pristine gem located on our southern border.
The goal of my internship was to identify the resources at SMER that might be utilized to connect with teachers in the Temecula Valley so as to enhance awareness of the reserve and make it a better-utilized resource within our community.
I met with the director, Pablo Bryant, and other members of the Education and Outreach Committee and we brainstormed ways to forge connections. I spent time diving into the research previously completed at SMER, participating in most of the docent-led hikes offered and helping with one of the Science Days.
Additionally, and perhaps most importantly in terms of connecting with local teachers, I utilized what I learned about SMER and sifted through the new Next Generation Science Standards (NGSS) to identify connections between the two. Early on, we identified the current lack of resources for NGSS that are available for local teachers as well as its connection to inquiry and local phenomenon as key elements that could help create the desired connection.
While the internship has officially ended, my dedication to what we started continues to grow.
In early January, most of the science teachers at Bella Vista Middle School devoted part of a professional development day to learning more about SMER through an overview of the reserve by the knowledgeable lead docent Beth Cobb, who has a true talent for interpretation, and a hike down to the river to explore some of the amazing habitats. A valuable conversation ensued about curriculum possibilities, including possibilities for both water quality and how humans have impacted the mountain lion habitat.
This spring we are hoping to offer a teacher training program on watersheds and water quality testing, roll out a collaborative project that allows students to capture data on water quality throughout the Santa Margarita watershed and offer a Saturday program for middle school students to complete water quality testing at SMER. I believe this is just the beginning of how SMER can educate local students about what is in their backyards and help to create the environmental stewards of the future.
Rachel Ford, AIP Student, Miami University & San Diego Zoo Global