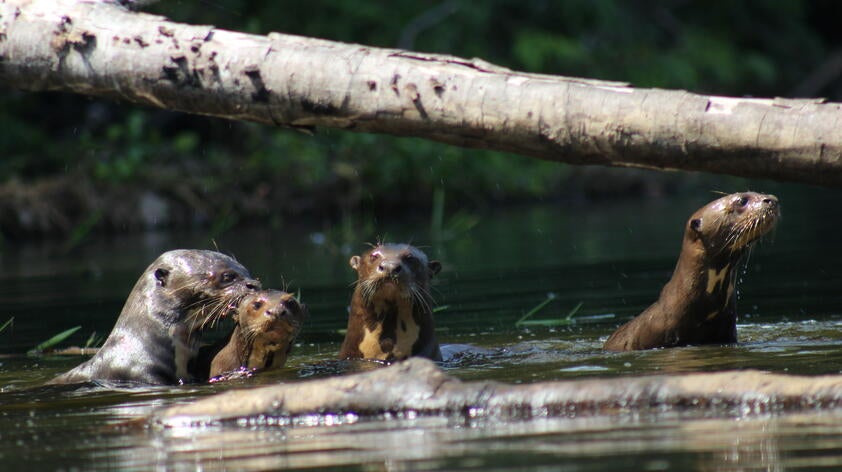 Giant otter research and gold mining in the Amazon during the COVID-19 pandemic
Peru has been hit harder than most countries by the COVID-19 pandemic, with over 30,000 fatalities. The country is currently going through a political and economic crisis. As a result, closures and travel bans have been in place since April. The situation had implications for all types of ecological research, including the giant otter conservation project activities.
Project members had planned to perform the annual oxbow lake surveys, with the objective of making a census of and identifying giant otter groups, during May and July. However, it was not possible this year. One of the project's objectives is to understand whether giant otter populations are impacted by gold mining activities.
At the moment, it is unclear if and how COVID-19 has affected artisanal gold mining in the research area, located in the Madre de Dios province. Reports are contradictory. Some suggest that the volume of activity has been reduced by cutting of supply chains resulting from travel bans.
On the other hand, since February, global gold prices have risen dramatically, which means that local people are more likely to take risks involved with gold extraction, including infection and run-ins with Peruvian authorities. Recent satellite data analyses suggest that in several areas of the Peruvian Amazon gold mining activities have increased.
In neighboring Brazil, backed up by lenient regulations and active incentives from the local government, gold mining has increased abruptly since the onset of the pandemic, accompanied by land invasions and violence towards local indigenous populations.
In Peru, authorities differ in their attitude towards gold miners, attempting to make their activities more sustainable by regularizing them and enforcing bans on extraction in protected areas. However, such efforts do not have high priority in times of crisis.
Gold mining can affect giant otters by destroying the banks of the rivers and lakes they inhabit, by driving declines in populations of the fish they rely on for food and by polluting their aquatic environment with mercury.
When travel bans are lifted, it will be interesting to examine the state of giant otter and fish populations in the project's oxbow lakes. We hope to be able to return to the field soon and continue to monitor the biodiversity and health of these sensitive aquatic ecosystems.