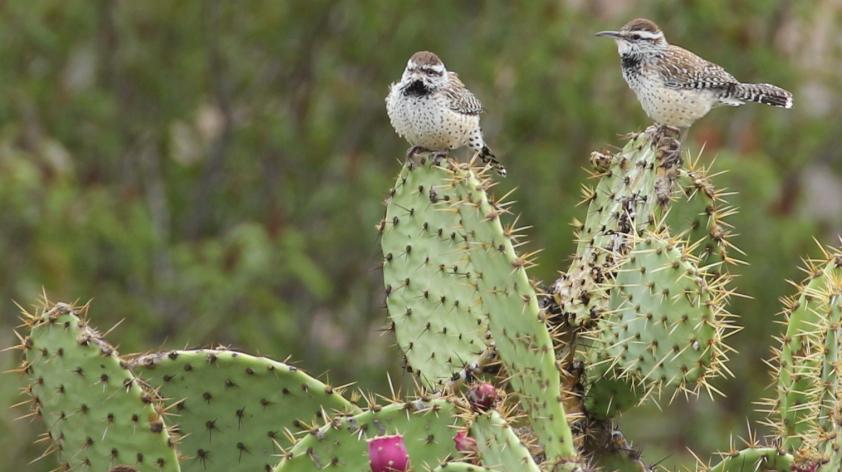 Helping the Locally Imperiled Coastal Cactus Wren
Coastal cactus wrens are a non-migratory bird species, unique to Southern California, yet their populations across the region have declined drastically in the last 20 years. Without conservation action, the species (Campylorhynchus brunneicapillus) will likely be extirpated from the region. Loss of their cactus scrub habitat due to development, extended drought, and wildfires, coupled with their short-distance fledgling dispersal, is driving declines of this species. Wren populations are squeezed into ever smaller and widely separated patches of habitat, supporting only limited numbers of wrens. This leads to cascading problems.
Small populations are more susceptible to over predation and catastrophic events, such as wildfire. This is compounded by the wren's short-distance dispersal behavior. When wren fledglings leave the nest in search of new territories, they search only a mile or two from the territories of their parents. Those unsuccessful in finding new territories, due to habitat loss, are forced to carve out smaller territories from those of their parents. The remaining habitat becomes resource stressed and already small populations become isolated and gene flow is diminished. The genetic bottleneck of fewer individuals in the population means limited genetic diversity, which lowers the population's ability of adapt to a changing environment and fight disease, and breeding success potentially lowers as increasingly related individuals interbreed.
If habitat loss and limited dispersal are the main drivers of wren decline across the region, then preserving and building new, connected habitat is the way forward to protecting this species across Southern California.
Cactus is an essential component of the cactus wren's habitat. It is a spiny fortress largely safe from predators where wrens build nests and raise young. Over the last decade, the Institute for Conservation Research (ICR) has studied coastal cactus wren ecology.
Recently, ICR has propagated and planted prickly pear cactus (Opuntia littoralis and O. oricola) on conserved lands at Lake Hodges and in the nearby Biodiversity Reserve at San Diego Zoo Safari Park. The Biodiversity Reserve encompassing 900 acres of chaparral, coastal sage scrub, and some of the most intact cactus scrub habitat in Southern California, is one of the last strongholds for coastal cactus wren in San Diego County.
The Institute's cactus propagating and planting effort continues this year. During 2016, the Plant Conservation team collected 4,000 cactus pads from mature plants at Lake Hodges and the Biodiversity Reserve. We placed them in pots, and grew them into two- to three-foot tall plants. With the wet season upon us in San Diego and the cactus ready, we began planting this cactus in November on conserved lands along the south side of Lake Hodges. This area is within a half-mile of a known coastal cactus wren population and is a location where wren lived in the 1990s. This year's cactus propagation and planting effort was greatly assisted by volunteers, which include four Zoo student groups: ZooCorp, Conservation Corp, Internquest, and Girls in Science, as well as, outside volunteer groups from the Jack and Jill Club, UCSD's Evolution-Behavior-Ecology Club, and the Environmental Club from Riverside's King High School, and teachers from Challenger Middle School in Mira Mesa. With the help of nearly 100 volunteers, we planted 1,000 cactus plants creating two acres of Coastal Cactus Wren nesting habitat.
This year, an additional 2,600 cactus plants we propagated are being planted by the City of San Diego and the San Dieguito River Park on more conserved lands surrounding Lake Hodges and up San Pasqual Valley towards the Biodiversity Reserve. These plantings this year and 3,000 more next year will restore a strong habitat corridor of cactus scrub between the currently isolated coastal cactus wren populations at Lake Hodges and those in San Pasqual Valley.
Our cactus propagation and planting not only creates more nesting habitat, it joins together isolated populations of coastal cactus wren in North County San Diego, complementary factors that will help ensure the species' survival in our region. Growing up in growing up in San Diego, I have a passion for saving local species. The Plant Conservation team along with our wonderful volunteers is making quantifiable, physical improvements in the environment that help the locally imperiled coastal cactus wren. For this, I am very proud!