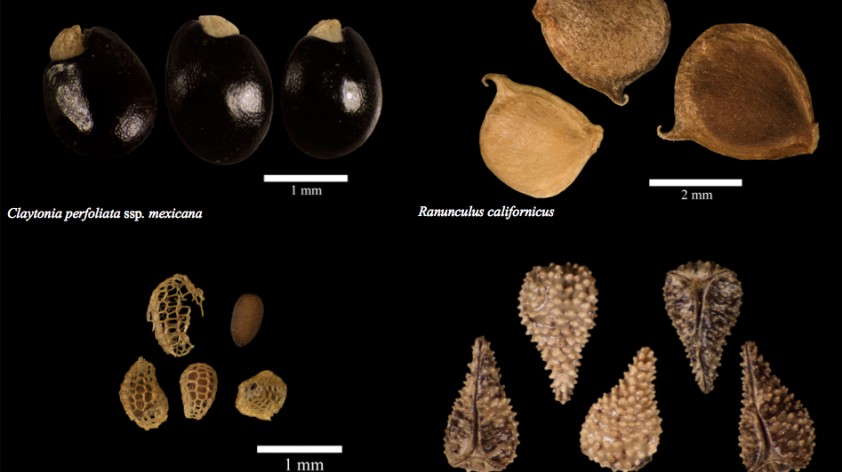 Imaging in the Native Plant Seed Bank
Among the many programs organized by the Institute for Conservation Research is one directed towards undergraduates and future graduate students: the Summer Fellowship Program. This program, which takes place every summer, allows students to work on a project related to the conservation and research efforts going on at the zoo and safari park.
As one of the fourteen ICR Summer Fellows, and one of two in the Plant Conservation Division, I have had a great time working with Stacy Anderson and Joe Davitt at the Native Plant Seed Bank, one of the principle seed collections of rare Californian plants. The Plant Conservation Division, like every division at the Institute, offers access to unique resources and research opportunities. One of the things I have appreciated most about my work here is the opportunity to do field work in such a botanically-rich area. San Diego County, which harbors more than 2000 species of plants, is located in the Californian Floristic Province, identified by Conservation International as one of thirty-six global hotspots of biodiversity.
This is an amazing region, and since I arrived here when much of the fruit from spring-flowering plants was ripening, I have been able to visit much of it on seed-collecting trips. So far, I have been able to see various chaparral, coastal sage scrub, and montane habitats located in Mission Beach, Ocean Beach, Otay Mountain Wilderness area, San Diego National Wildlife Refuge, Carmel Mountain Nature Preserve, Otay Valley Regional Park, Dennery Canyon, and Overlook Park.
While I have spent a lot of time helping Stacy and Joe in the field, most days I work in the seed bank, where I am working on imaging the seeds currently stored there. The final goal of this project is to create a collection of high-quality images for all species that allows inspection of anatomical and morphological features. These photographs can then be referenced to help with seed processing and may also help verify identification for species that are difficult to distinguish in the field. (e.g. Dunn's mariposa lily (Calochortus dunnii) and the San Diego Golden Star (Bloomeria clevelandii), which often grow sympatrically with other species in their genus).
In order to create quality images of seeds that are often quite miniscule, special equipment needs to be used. In my case, I use a Meiji EMZ_TR stereomicroscope fitted with a Canon T6i camera, hooked up to a computer with Photoshop. This set-up facilitates the process of "image-stacking," a technique widely used in seed photography and more broadly in the macro photography world. Essentially, I take a set of about 10-30 photographs focused on different parts of the seed of the species I am working on, and then I use Photoshop to blend all the images together, until I come up with a composite image in which all the parts of the seed are clear. This allows detailed observation of seed morphology and seed coat texture and color.
What I have enjoyed most about this process is being able to see seeds of different species, which have wildly varying characteristics, including pits, ridges, impressions arranged into stunning geometric patterns. It certainly leads one to wonder more about the autecology and evolution of the species possessing them. Seeing the diversity of morphologies brought about by natural selection is always fascinating, and I have enjoyed seeing this diversity at a scale that usually escapes attention.
Overall, I have been grateful for my opportunity to be here participating in the operations of the Native Plant Seed Bank, learning about seed collecting and plant conservation in action. Being able to contribute in a small way to plant conservation efforts is a rewarding experience, and I am looking forward to what the rest of the summer brings.