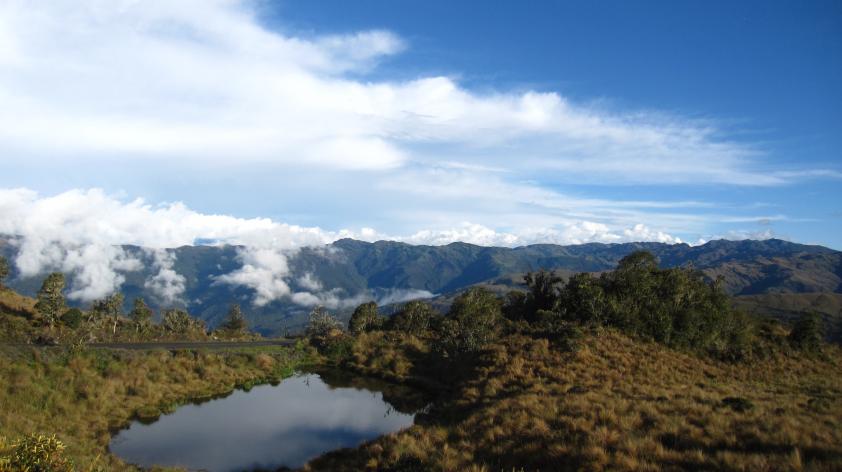 It's a different kind of forest, but it's the same bear
The Andean bear, like several bears, can take advantage of a wide range of ecological opportunities. For example, Andean bears still occupy forests across 32° latitude, about the latitude difference from the Florida Keys to Juneau, Alaska, and across >4000m (13,100') in elevation. That spans a wide range of environmental conditions and habitats! Conservation scientists think that humid montane forests, such as the cloud forest, are the best habitats for Andean bears. Unfortunately we don't have good data to test this hypothesis so we can't say for sure which are the best habitats. It's possible that, like giant pandas, Andean bears currently live just in areas where there's less human activity, whether or not that would have been their best habitat in the past.
As we begin working again in the cloud forests of SE Peru, I'm struck by the similarities and differences between the dry forest of Cerro Venado and the Manu landscape. There's not a large difference in temperature between the two areas at similar elevations. The temperature near Cerro Venado ranges from 9-37°C (48-99°F) throughout the year, which is similar to the temperature variation at a similar elevation in Manu (10-35°C, 50-95°F). However, the entire bear landscape in Manu experiences cooler temperatures at higher elevations and ranges throughout the year from 0-35°C (32-95°F). This is partly because the total difference in elevation within 200km2 (77mi2) of bear habitat at Cerro Venado is <1000m (3300ft) in elevation but where we're working in the Manu landscape a similar area of bear habitat covers >2400m (7800ft) in elevation. In addition to the greater range of elevation in Manu, the biggest difference between the two areas is that although the daily precipitation at Cerro Venado ranges from 0-40mm (1.6"), the daily precipitation at a similar elevation in Manu ranges more than three times as much, from 0-157mm (6.7"). Across bear habitat in Manu the daily precipitation ranges from 0-171mm (5.6'), more than 4 times the maximum daily precipitation at Cerro Venado, an average of 7mm per hour (2.8"/hour).
The additional precipitation and variation in elevation in the Manu landscape, compared to the dry forests of Cerro Venado, produce a greater diversity of plants and a greater complexity of habitat types. Most bear habitats in Manu are much more dense than the dry forest, so we don't expect to often see bears in Manu. Instead, we'll have to seek indirect evidence of bears and we'll have to rely even more heavily on camera traps.
We do face one critical constraint whether we're working in the dry forest of Cerro Venado or the cloud forests of Manu: drinking water. We're beginning to understand that Andean bears may not need regular access to drinking water, but we do. It's not surprising to people that we have to carry our drinking water in a habitat called the dry forest, but until you've worked in the cloud forest you'd be surprised at how hard it can be to find running water. There are streams and rivers, but it's often difficult to get to them and they're not as common as you might expect. Maybe all the moss absorbs the rain? So, in the Manu forests we carry our drinking water, use it carefully, and camp near the known water sources.
As far as we know, Andean bears have no special genetic adaptations for living in the dry forest or for living in the cloud forest. However, there has been very little genetic work done on Andean bears, so we may not understand what's going on. It appears that, like brown bears and American black bears, the behavior and physiology of adult Andean bears is flexible enough that they can live in a variety of habitats under a range of environmental conditions. Fortunately, human behavior and physiology is flexible enough that we can study these bears in all their very different forests.
Photos by the author.