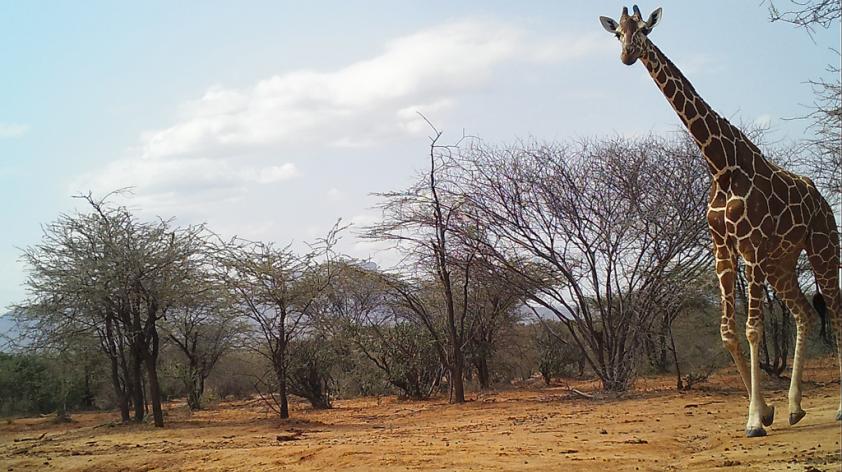 With just a click, schools help save giraffe in Kenya!
Imagine that you're in high school again. You walk into class and your teacher tells you that you get to look at pictures of Kenya's wildlife for credit that day, and maybe the day after… "What's citizen science?" you may have asked, "Where's Kenya?"
It's likely many of you have heard of San Diego Zoo Global's newest citizen science initiative to help save Kenya's giraffe. I'm talking aboutWildwatch Kenya, of course, where anyone with internet access can log on to the Zooniverse website and start categorizing animals they see in camera trap photos. Anything from a warthog to a human.
Here at the San Diego Zoo, we know nothing engages students like animals. In order to recruit more volunteers for Wildwatch Kenya and better engage youth in conservation citizen science efforts, Community Engagement and Population Sustainability teamed up to bring the first Wildwatch Kenya School Challenge to the alumni of our Teacher Workshops in Conservation Science program and their students.
Since 2006, Teacher Workshops has brought over 1,200 educators from every state in the nation and 20 countries around the world to learn about the conservation science taking place within San Diego Zoo Global. It was our hope to engage these passionate educators again to bring citizen science, and Wildwatch Kenya, to their classrooms.
Our first challenge kicked off in March 2018 and ran through May. At least 13 middle and high school classes managed to classify a combined 241,345 camera trap photos during that time. The class with the highest number of classifications won a free pizza party and Skype talk with Population Sustainability team member and giraffe researcher,Jenna Stacy-Dawes.
With a whopping 85,851 images classified, the winner of the challenge was Whitney Aragaki's AP Environmental Science class of Waiakea High School in Hawai'i.
Given the tremendous impact this challenge had in pushing the Wildwatch Kenya project forward, we decided to launch a second school challenge in fall of 2018. It ran October-December with the prize being the same, a pizza party and Skype talk with giraffe researcher, Jenna Stacy-Dawes.
This second-ever Wildwatch Kenya school challenge wrapped up with 14 middle and high school classes classifying a combined 310,197 camera trap photos - we have set a new record! The winners this time included Joe Gelaro's 11th grade math class at Steele Canyon High School in California, who classified 73,313 photos, and Amanda McCleary's 8th graders at Los Lunas Middle School in New Mexico, who classified 41,101 photos!
Due to their interest and close proximity, the Steele Canyon High School winners were able to come visit Jenna in person at the San Diego Zoo Institute for Conservation Research (featured below) on December 13, 2018. They spent time in the Conservation Education Lab, learning about her work at home and in Kenya with giraffe before heading back out to enjoy some time in the San Diego Zoo Safari Park with real giraffes!
Thank you so much to all of our Wildwatch Kenya School Challenge participants, and to all the readers for your time engaging in conservation citizen science. Your efforts have helped us categorize an astonishing 783,765 photos since the launch of Wildwatch Kenya in June 2017!
(Photo above from a field camera in northern Kenya and part of the Wildwatch Kenya project.)