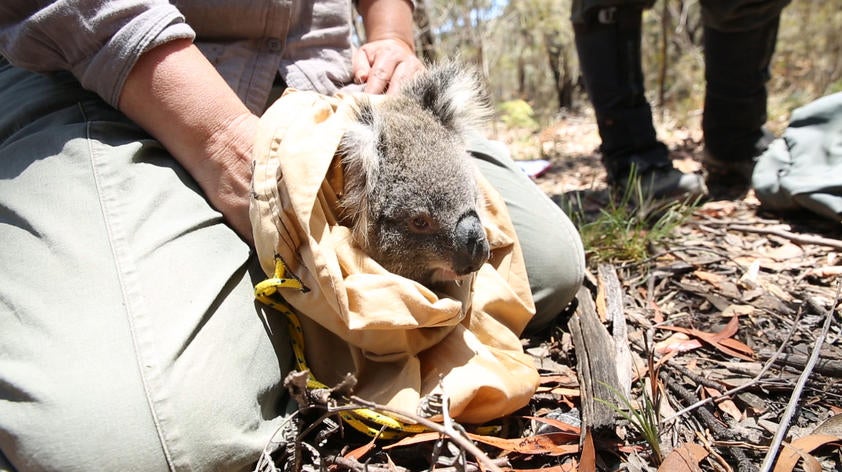 The Kanangra-Boyd National Park twelve
When does a number actually represent more than itself? When we are talking about animals that represent their greater species.
Back in December, as wildfires raged through the Blue Mountains in New South Wales, Dr. Kellie Leigh (Science for Wildlife) was busy tracking koalas she had been studying in Kanangra-Boyd National Park.
Normally, she would be tracking these koalas to see what trees they were using or if they were near other koalas, but with fires racing towards this area of the Blue Mountains, Dr. Leigh had a different agenda: she was out to rescue koalas. In the end, she was able to find 12 koalas and she was able to safely get them out of the line of fire, literally.
Fast forward to today, as the world is engrossed in COVID-19 news, Dr. Leigh is still focused on those 12 koalas. It is time for those koalas to go back home, but how does she know they can survive in the fire ravaged Blue Mountains?
We still see news about food drops and water supplementation for the animals in those burn areas. For the past few weeks, Dr. Leigh and her team of volunteers have been scouting a location near where she rescued the 12. They are assessing if there are other koalas already living in the space and if so, what condition are those koalas in? What does the tree canopy look like? Can the trees support koalas? Will these 12 koalas even eat from the trees in this area (koalas are very picky eaters and rightfully so given what they are eating)?
And wouldn't you know, not only are the 12 eating the browse harvested from this area, but it appears this is a very good area to release them, because of what Dr. Leigh and her team found: two healthy koalas that call this release area their home already and one, now named Siren, who was carrying a little one in her pouch too (yay, a joey!).
Although the numbers appear small, they really mean a lot more than their sums. These two koalas give hope for twelve rescued koalas, who give hope for the rest of their species.
Photo above by Kath Davis: This is Medusa, a local of the Blue Mountains and, most importantly, a symbol of hope. Medusa was found by Dr. Kellie Leigh on one of her final scouting trips to the area that back in December when the fires were raging. Medusa is part of the 12 koalas that Dr. Leigh will be re-releasing in March. The team discovered other koalas living in the release site, providing a key piece of information: can koalas live here? It appears the answer is a resounding yes! And the best part…another rescued koala, Siren, has a joey!