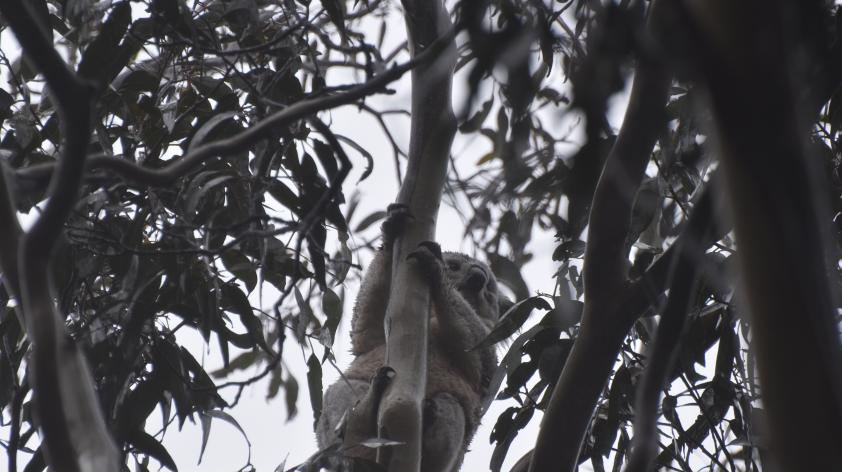 For the past 16 years I have been involved with koala research at the San Diego Zoo in one way or another. This has led to some wonderful collaborations with field researchers in Australia that we support via funds from our Koala Education and Conservation Program. One of those researchers is Dr. Kellie Leigh, who currently follows koalas in the Blue Mountains, NSW, Australia.
When I first met Dr. Leigh, she was working down in Victoria where koalas can reach sizes of up to 50% greater than any of the koalas you will see at the San Diego Zoo. She has since moved up to New South Wales where she is tracking what was considered the elusive Blue Mountain koala.
Now, if you have ever been to the Blue Mountains in New South Wales, you will know that there are wonderful hiking trails, camping locations and even some apple farms all only about two hours driving time from the city bustle of Sydney. In this region people live amongst the beautiful eucalyptus trees and enjoy the Local, State and World Heritage areas of the region.
What has been understudied and poorly understood is the current state of the koala populations in this area.
Historically this area was a hot bed of koalas. In fact, the fur trade and hunting of koalas that people may be familiar with happened in this area. This area also saw a bit of orchards planted, which now are converting back to native Australian habitat.
So, with the fur trade long being over and orchards returning to their natural habitat, it would stand to reason that the native wildlife would also return and in the case of koalas this appears to be happening, which is where Kellie's work comes in.
This past October, I was lucky enough to head Down Under to a new location in the Blue Mountains with Dr. Leigh to experience first hand where her research is taking her.
We ended up in the Kanangra-Boyd National Park area, and what I experienced actually astounded me.
Koalas can be hard to detect. You would think fuzzy, grey animals up in a green-leafed tree would be easy to spot, but they truly can be difficult to spot. Our first day out with a team of researchers and volunteer koala spotters resulted in a bit of rain and spotting 2 koalas. Now that wasn't a bad count and finding 2 koalas in the rain seemed promising.
On the second day we found even more, 5 koalas (3 with joeys too!) to be exact. Oh, and did I say, it was raining more! Each day we were adding even more until we ended up spotting over 20 koalas in a walkable area. We had successfully found a researchable koala study site!
We got to work radio tagging 11 individual koalas that Kellie and her team of koala trackers will be able to follow through the next year and beyond.