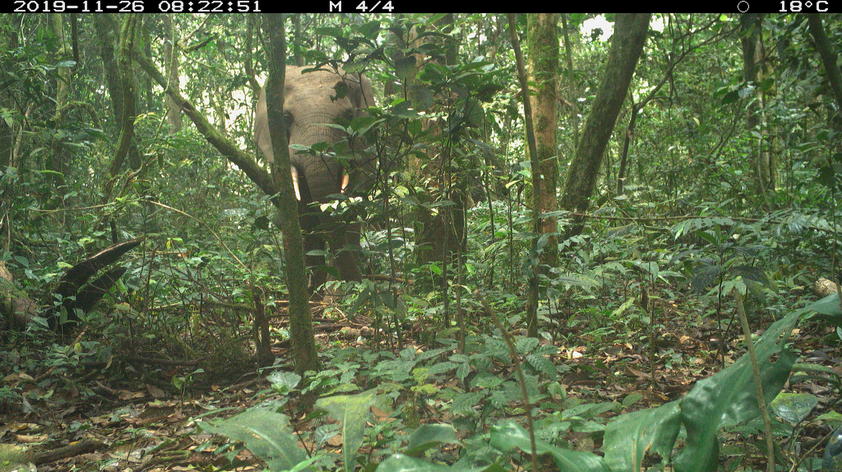 The many faces—and voices—of the Ebo Forest
For nearly 20 years, San Diego Zoo Global's Central Africa Program Team has been studying drills, one of the most endangered primates in Africa, in Cameroon. The recent installation of field cameras in the Ebo forest has revealed a thriving population of these colorful monkeys, along with a host of other incredible wildlife, including gorillas, chimpanzees, forest elephants (pictured above), and other mammals.
What has enabled the team to work in Cameroon for so long is the collaborative, cooperative, community-led programs that benefit humans and wildlife. Sharing information between researchers, communities, and organizations helps knowledge of the region and its diversity grow, which can help guide effective conservation measures.
To that end, we are pleased to share three guest bloggers whose posts are showcased on Global Wildlife Conservation. This trilogy of reporting covers boots-on-the-ground observations and insights and provides a well-rounded glimpse into the committed people working diligently to protect the biological hotspot that is the Ebo forest.
Please take a few minutes to explore these articles addressing research, culture, and biodiversity and the ways communities are working together for a better future.
Research blog: Want to be Awed By Our Wild World? Cameroon's Ebo Forest Keeps the Wonders Coming.
Culture blog: Local Communities' Connections to Ebo Forest Span Generations
Biodiversity blog: Ebo Forest: A Stronghold for Cameroon's Wildlife