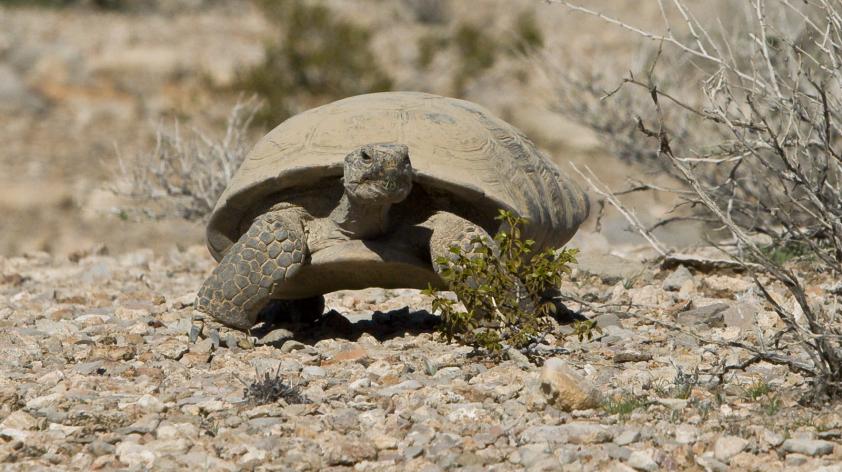 The Mojave Desert Shuffle
The Mojave Desert is being transformed. Solar energy is being sourced in this seemingly vast landscape. Housing is being built. Infrastructure is being expanded. All for the needs of our growing population.
Unfortunately, oftentimes these transformations cause irreversible damage to the integrity and previous function of the desert and thus compromise natural habitat for many species including desert tortoises. To counteract some of the habitat fragmentation, the U.S. Fish and Wildlife Service is collaborating with the Disease Investigations group at the Institute for Conservation Research to determine the health risk of reconnecting a set of neighboring desert tortoise populations that have been separated for many years.
One of the populations is a former recipient group for desert tortoises with diverse backgrounds. This population includes individuals moved out of harm's way at sites that were initially affected by urban development. Reconnecting the two populations only makes sense if the overall benefits outweigh potential risks such as spread of disease. Conservation management strategies aim to maintain if not improve long-term viability of a population.
We compared the health status of tortoises from both populations. In particular, we looked at presence of clinical signs of upper respiratory tract disease (URTD) and infection with its causative agents Mycoplasma agassizii and M. testudineum. URTD is a chronic disease that can wax and wane over many years and has been a cause of concern in various desert tortoise populations since it was described in the 1980s. We are looking forward to sharing and discussing results at the Desert Tortoise Council Symposium in February 2019.