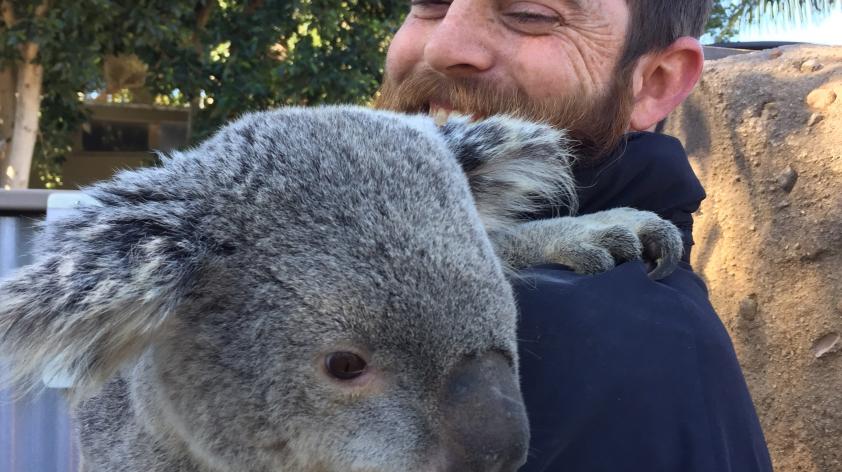 Never-ending Stories: A Keeper's Perspective from Behind the Veil
I was a zoo keeper for the better part of 8 years. As a keeper, I took care of many of the animals you love to see when you come to the zoo. The animal care team is an integral part of each animal's life, there for the big events and for the mundane. We are there to clean, feed, enrich their lives, help with births, and watch over them each day. We develop relationships with each animal, get to know their quirks, their likes and dislikes, who gets along with who, and who might need some help.
And, of course, we are also there for the end of those relationships, when an animal we have cared for succumbs to an illness, injury, or just the steady march of time. These hard moments of loss are part of the job, and, aside from our memories of the friends to whom we have had to say goodbye, that is where the story ends…
At least, that's what I thought.
For the pathology team at the San Diego Zoo's Institute for Conservation Research, this is where the story often starts. I recently had the opportunity to transfer to Disease Investigations as a Pathology Technician (Research Associate) and dive head first into what happens after an animal dies.
For me, I had to start at the beginning (or was it the end?).
After an animal passes away, what exactly does happen? For any animal that dies in the Zoo or Safari Park, from the largest elephant to the smallest frog, even wild animals that live in and around the zoo, a necropsy is performed by us "path techs." We carefully examine the animal, taking measurements and making note of anything out of the ordinary, even down to calluses and small scratches.
Next, we use surgeon's instruments to do the same with the internal organs, taking samples of each one, especially from any areas we can see that might indicate a disease process. We then process and stain the tissues for our team of pathologists to review and diagnose disease or causes of death.
You might think that this is leaps and bounds different from my job as a keeper, but the jobs are actually much more similar than I had anticipated. Two of the most important skills we have to learn to care for exotic animals are:
1. Know what's normal! Is that behavior a sign of injury, or a mating display? Is that lizard's tongue supposed to be yellow, or is there something terrible going on? It can be very difficult sometimes to know what is healthy and what might indicate a problem.
2. Describe what you see! Effective communication between animal keepers, managers and veterinary staff can expedite the appropriate care or ensure you don't miss an important breeding window.
So how does this transfer to pathology? Granted, the context is a bit different, but the principles still apply.
First, I needed to review my anatomy and learn what is normal, e.g. is a liver supposed to be that color? How many stomachs does a ruminant have? Where the heck is a snake's pancreas? This was a tall order, given that the Zoo and Safari Park care for over 3000 different species!
Next, I needed to ensure that I was describing what I was seeing in detail. The orientation, color, consistency, shape, size, texture, and even smell (I know, ew! But neat!) of tissues and their lesions can give important clues to our pathologists about what might have contributed to an animal's death or need further investigation.
The one question I hear again and again from folks when I talk about my transition from the world of the living is: "Doesn't that get you down, after working with living animals?"
A fair question, and I would have to say yes, it really can make me sad. I've even seen a few of the animals I cared for come through our necropsy room, and it does affect me.
However, I see what I do now as equally important. The reason I got into animal care at the zoo to begin with was not just to be up close to neat animals. I believe in the mission behind the jobs, be they caring for the animals directly, or helping to safeguard against diseases that might harm whole populations.
Simply put, I believe what we do here matters.
What was really great to learn in this transition was that the animals' stories never really end. Even after the end of their lives, the animals we loved and cared for continue to help us safeguard others here at the zoo and beyond, and most importantly, contributing to our ultimate goal: to end extinction.