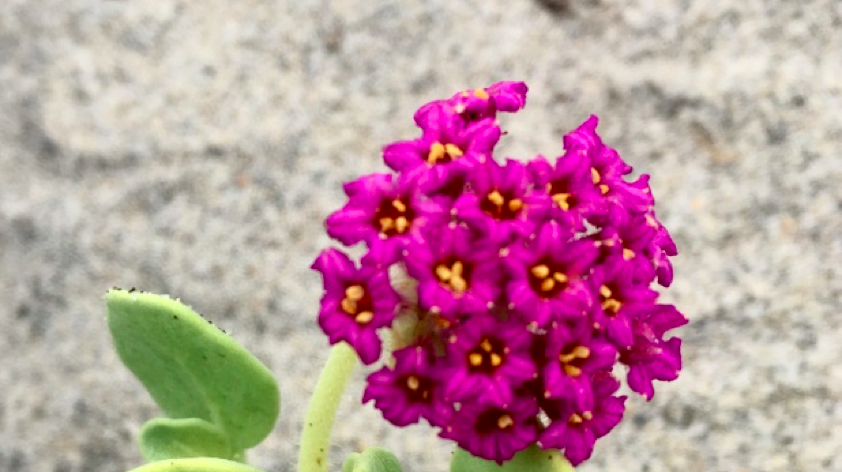 Marine Corps Base Camp Pendleton (MCBCP) is home to one of the largest breeding colonies of endangered California least terns and threatened western snowy plovers, and during peak breeding season, the nesting sites are a spectacle of sight and sound.
The terns flash by with quick "zwreeps" and high-pitched chatter, while the plovers dart back and forth either on the ground or just above, alerting monitors with whistles and trills of their presence. Despite the clamor, human eyes are trained on the ground, searching for elusive, camouflaged eggs that are carefully – and at times, carelessly – laid in nests that either resemble the sand in which they are placed or are hidden within a commonplace patch of vegetation.
Upon closer inspection, however, the "commonplace" vegetation can become a fascinating spectacle of color, size, and shape. The plants can be easily passed by, as the birds, their calls, their eggs, and their progeny require most of surveyors' attention. Yet beautiful, sensitive plant species, including some rare and federally-listed species, can be found throughout the nesting sites – a birder and botanist's dream!
Unlike the birds, the plants are far more peaceful and patient; they create a kaleidoscopic habitat that harbours a variety of species.
The yellow flowers of beach evening primrose (Camissoniopsis cheiranthifolia ssp. suffruticosa), the purple of sand verbenas (Abronia umbellata and A. villosa), and the even darker purple of red sand verbena (Abronia maritima), blanket the dunes with a sea of color. Even the non-native sea rocket (Cakile maritima) displays delicate, light purple flowers that, when overlaying a speckled plover egg, create a scene fit for a springtime ornament or painting.
Farther back in the dunes to the east, the conspicuous, low-lying Nuttall's lotus (Lotus nuttallianus) branches out from a center point to form a dense, ground-hugging mat of dark green spotted with bright yellow and red blooms. The lotus is included in the California Native Plant Society's Inventory of Rare and Endangered Plants, so boots can continue to trudge on as long as surveyors exercise their usual extreme care so that this and other species are avoided.
Less vibrant, but equally important, are the small coast woolly-heads (Nemacaulis denudata var. denudata), another delicate and rare species.
Even with eyes scanning the ground, the constant searching for equally-delicate nests and chicks can cause monitors to temporarily divert their gaze away from these tiny, drab plants. But they too require protection. General guidelines for areas with restricted access that help safeguard nesting areas also help reduce accidental trampling of rare plants by higher numbers of visitors who frequent other beaches.
The terns and plovers, with their rapid movements and diversionary tactics, can distract from the dunes' bounty of plant life. An understanding and appreciation for the multitude of species not only adds more interest to an already bustling day, but also helps foster the maintenance of important invertebrates, including diverse pollinators, and also some key prey for plovers, and healthy habitats for the beloved birds, and their future generations.
As long as you are looking at the ground while calamity ensues overhead, many sensitive, native California species can be found underfoot – and you can help to conserve them by avoiding accidental trampling!
The Terns and Plovers program is based at the Institute for Conservation Research, San Diego Zoo Global, and includes research, education, monitoring and management to promote the recovery of coastal birds. Tawni Gotbaum worked as part of the Terns and Plovers field team based at Marine Corps Base Camp Pendleton. She continues important environmental work and sharing her knowledge and appreciation of California native plants.