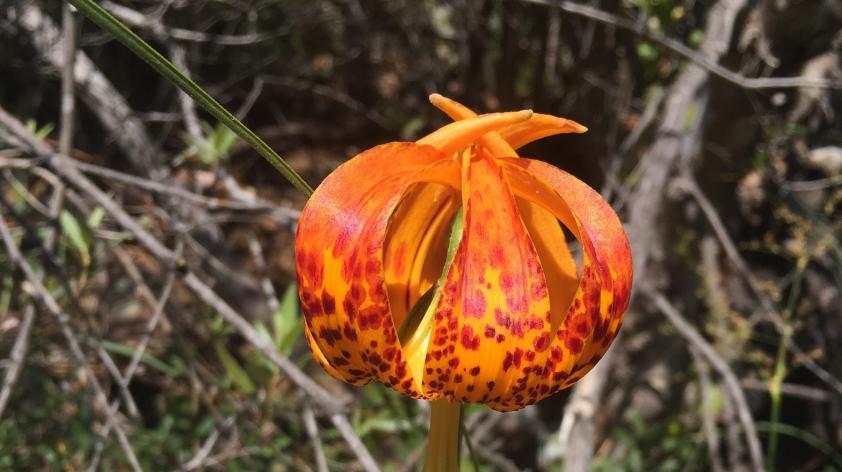 Rare Seed Collections in San Diego County
We visited beautiful locations this year and made seed collections from many very rare plant populations. This month I'm going to highlight a few of my favorite collections made this season, from plants that exist in very different habitats. With its sandy coastal dunes, pine covered mountains, and dry low deserts, San Diego County supports more plant taxa than any other county in the United States.
Downingia concolor ssp. brevior is known as the Cuyamaca Lake downingia. Downingia is a genus in the bellflower family (Campanulaceae) and is comprised of semiaquatic annuals restricted to ephemeral wetlands. There are two species found in San Diego County, a common species (Downingia cuspidate) found in our coastal and inland vernal pools and wetlands, and the Cuyamaca Lake downingia, found at high elevations in seasonally wet meadows and lake margins. There are just 4 known occurrences of this plant on the planet. Three locations around Cuyamaca Lake support larger populations, but within the past 10 years a new smaller population was found roughly 20 miles northwest of these populations on a private ranch. With owner permission, we made a seed collection from this population in spring. Being isolated from the other populations, these plants may contain unique genetic information. We now have a collection of individuals (living as seeds) in long-term storage for use in conservation research and as an insurance population in the event that the small wild population is threatened.
If you have been lucky enough to come across an ocellated Humboldt lily in the wild, you can attest to its striking beauty. Lilium humboldtii ssp. ocellatum is endemic to Southern California, as far north as Santa Barbara County, and is considered a vulnerable species. It is in the lily family (Liliaceae), and can occur in a range of habitats, from coniferous forest to coastal scrub. We found a large population of this species in southern San Diego County, scattered in openings along a rocky seasonal stream. In the past this species has proven difficult to collect, as we have been unable to find a population large enough to support a seed collection. This year we hiked the rocky wash, up boulders and over felled logs for over a mile, seeking out individuals that could contribute seed to our collection. In the end we were able to add a large collection, from the southernmost edges of the species' range, to our seed bank.
Nemacaulis denudata var. denudata lives in one of our most endangered habitats. Known as coast woolly-heads, this species is one of a number of species that only exist in Southern California's coastal dune habitat, home to many endangered plant and animal species. Nemacaulis is a monotypic plant genus (just one species) in the buckwheat family (Polygonaceae). The species requires undisturbed sand, free from heavy foot traffic, dog traffic, and invasive weeds. Much of this habitat has been developed for homes or recreational use, and invasive grasses have decimated many plant populations. Roughly 35 populations of this species remain, though information on the status of many of these is unavailable.
We made a large seed collection from a well managed population on City of San Diego land. Along with other seed collections made in past years we now have many of our rare coastal dune plants conserved in our seed bank. These collections can be used for restoration of damaged habitat, or possibly the creation of new dunes. In this way we are conserving this rare ecosystems for future generations, and helping to end extinction in San Diego County.
To read more about our seed banking efforts and many of the plant species we've been conserving, click the link below and read my other blogs!
http://institute.sandiegozoo.org/science-blog/by-author/6187