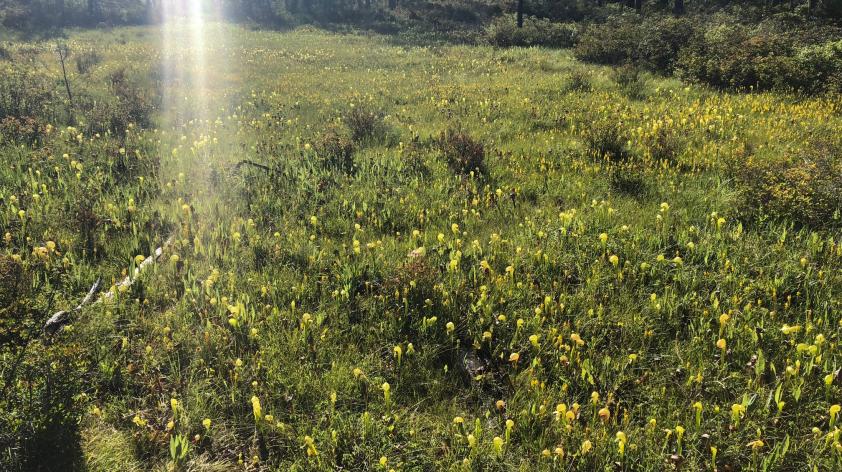 Rooting for Plants: the Road to Recovery
I don't know very much about plants. As a botany intern, that makes me a bit of an oddball amongst my colleagues, who might be proud of me for learning the scientific names of the most common tree species in the Rogue Valley of southwestern Oregon.
Taking this internship was very much a personal test of my own ability to learn and adapt to a completely new world. After all, my bachelor's is in zoology, in animal behavior. The most I'd ever learned about plants was from my freshman biology class, and I was pretty sure plants didn't have behavior (they do, but that's a blog for another day!).
Thankfully, I've found you don't really need to be an expert in botany in order to help save a species.
The primary species I've been working with over the past few months is Fritillaria gentneri (Gentner's fritillary), a lily only found in southwest Oregon and a few locations in northern California. It's a beautiful plant, or so I've been told. I arrived too late in the season to see any of its flowers, as it primarily blooms in the spring. By the time I started work in June, the closest I could get to seeing one of these plants I'd be working on for the next five months was seeing a dried up leaf and having someone tell me that it might be F. gentneri.
Since it's a hybrid species and quite nondescript, the leaves and seed capsules are virtually identical to other fritillary species that commonly grow nearby. The other species I've been working with, Lomatium cookii (Cook's lomatium), depends on vernal pools for its growth. Which means, and you guessed it, I also missed the flowering season for that little guy.
When I'm not protecting the native habitat of endangered species, I help out with other projects the botany team is working on. Without a doubt, weed pulling and seed collection are the most satisfying activities we work on throughout the summer. There's no better feeling than hauling out full trash bags of noxious weeds, or a big lunch bag full of native plant seeds. The seeds are one of the most important parts of recovery work, as they are ultimately necessary for reclaiming areas that have been disturbed after fires to prevent invasive species from moving in and taking over sensitive areas.
Conservation and field work isn't all fun and games. Sometimes you hike 12 miles to survey for weeds in an Area of Critical Environmental Concern. Sometimes you move hundreds of pounds of straw so you can mulch and seed a bulldozer line created by fire suppression efforts. Sometimes you even spend the whole day in the office, writing up a report on habitat characteristics of your focus species to figure out how you can conserve its preferred habitat most effectively.
All of that said, this internship has taught me so much about how the Bureau of Land Management has to carefully balance their mission of multi-use with endangered species recovery efforts, and all of the very hard work that goes into the conservation effort.