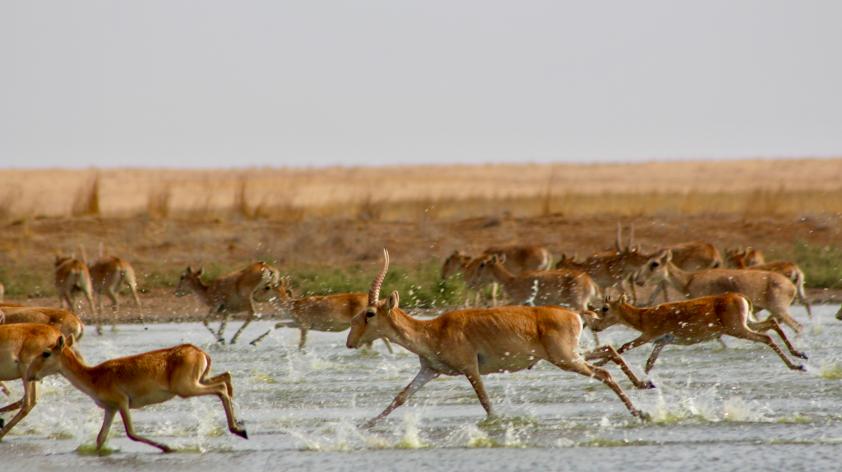 Saiga antelope are a unique species, with the body of an antelope and the broad, trunk-like nose of a tapir. San Diego Zoo Global (SDZG) has a long legacy of supporting saiga conservation. Beginning with a herd of saiga at the Safari Park a few decades ago, SDZG has helped support efforts to save this unusual species in the wild.
These charismatic antelope once roamed the Eurasian Steppe with total population in the millions. Today, this species is on the brink of extinction, with an estimated 95-percent drop in population over the past 15 years. The saiga has been listed by the IUCN Red List as Critically Endangered.
Saigas roam and migrate over large areas in Central Asia, including Uzbekistan, Kazakhstan, Russia, Mongolia, and Turkmenistan. Human activity threatens the way of life for saiga; their population decline is largely due to competition for food with livestock, migratory barriers like border fences, and heavy poaching of males for their horns, which are in high demand in parts of Asia.
Lucky for the saiga, there are passionate people helping to protect the species with the hope that they will thrive once again. In 2015, SDZG began a partnership with the Saiga Conservation Alliance (SCA) and others to collaborate on various aspects of saiga conservation and conservation education.
SCA has been partnering with teachers in saiga range-states for years, helping build a network of Steppe Wildlife Clubs. These "eco-clubs" educate schoolchildren and their families on the importance of saiga and a healthy steppe habitat. Dedicated educators who selflessly give up their free time after school to help make a difference for conservation facilitate these clubs. Knowing these teachers are a valuable part of the protection of saiga antelope, San Diego Zoo Global and the Saiga Conservation Alliance held a teacher-training workshop to provide educators with an increased capacity to teach conservation to their students.
SDZG and SCA co-hosted the first-ever "Summer Wildlife Academy for Environmental Teachers" in Nukus, Uzbekistan. It was attended by 32 educators from Uzbekistan, Kazakhstan, Russia, and the U.S. Through a generous endowment for education, all costs for teachers were covered so they could travel to the Academy and focus on spending five days learning, exchanging ideas, and building skills with their peers. During the workshop, teachers shared their successes including art competitions, mini-marathons, research projects, and a variety of other activities used to educate students on the importance of the saiga and their place in the steppe ecosystem.
The workshop also included several practical excursions to give teachers more insight into some of the topics they teach. One of the trips was to the Aral Sea. Once the fourth largest lake in the world, overuse of the lake for agricultural irrigation has caused the lake to shrink by over 90-percent, leading to species disappearing and an overall collapse of the surrounding ecosystem, leaving a stark desert.
Another excursion included a visit to local school, where a group of students told the story of saiga migration through puppets. Their engaging and light-hearted display of the threats facing the species kept an auditorium full of children laughing and learning. It was impressive!
The impact and success of the Academy was unparalleled, so much so that planning for a second Academy in Khazakstan next year is already underway.
Assurance Populations
Since the saiga are on the brink of extinction in the wild, in addition to protecting the remaining saiga in the wild, it is important to develop captive breeding of saiga as an insurance to be able to re-release saiga back to the wild to bolster the wild population. To support that goal, SDZG and SCA co-hosted the first-ever Saiga Conservation Captive Breeding Workshop in Moscow, attended by leading saiga conservationists from Russia, Khazakstan, Mongolia, China, Uzbekistan, United Kingdom, and the U.S. After working together over two days, these experts developed a strategy and best practices for saiga conservation breeding.
Addressing Demand
In addition to working in the saiga range states, since 2015 SDZG has been working with partners on in Laos, Cambodia, Vietnam and Singapore to address the biggest driver of decline in saiga: consumer demand for its horn. We have been conducting comprehensive social science surveys across these countries to better understand why people want to buy saiga horn and saiga products. With what we are learning from these surveys, we can then help develop more effective demand reduction campaigns that will resonate clearer with these consumers, and have bigger impact, as once the buying stops, the killing stops too.
While the situation for saiga in the wild is dire, it is not hopeless. This was underscored when David O'Connor and Safari Park Assistant Curator of Mammals, Andy Blue along with Dr. Vorontsova of IFAW Russia, recently visited Stepnoi reserve in southern Russia. A few years ago, the Russian population of saiga had declined by over 99-percent, from about 800,000 down to just 3,000 or so. We met a team of 12 conservationists from Stepnoi who, at that stage said to themselves, "NO! We are not going to let this happen, we are going to protect the last stonghold of saiga." With few resources, these incredible people put their lives on the line chasing down poachers on motorbikes across the Steppe, which has eliminated poaching in Stepnoi. Today, the saiga population in Stepnoi has risen to about 7,000.
If we are able to raise enough funds we hope to be able to help the Stepnoi team continue to protect these incredible animals, and to help open up two more watering holes in Stepnoi, which will be vital to helping the growing saiga population thrive.