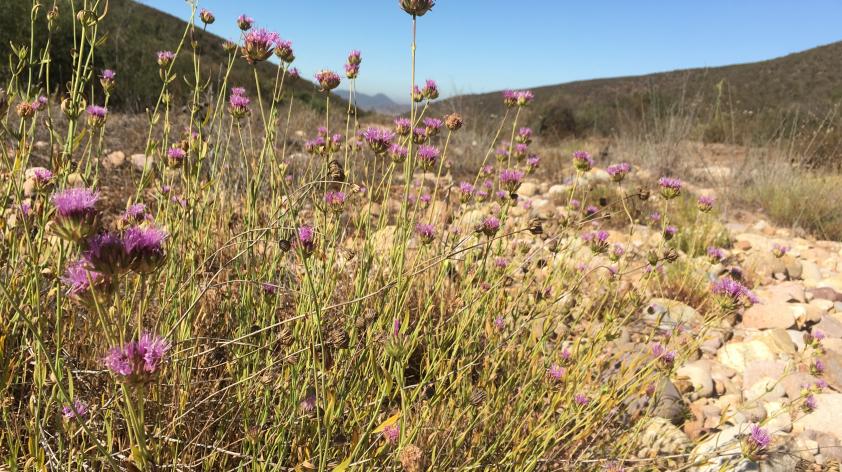 Saving A Native San Diegan
As the heat of summer strengthens its grip, most of us retreat to shade and the comfort of a cool beverage and fresh cooking. When I think of summer, I equate one plant family in particular with refreshing flavors. The mint family (Lamiaceae) gives us basil for pesto and caprese salad, mint for iconic summer drinks, as well as sage, rosemary, thyme, oregano, lavender, and many other herbs. This family is firmly established as one of the most important in feeding both the human population and our populations of native pollinators.
Many native members of the mint family are true summer bloomers, defiantly displaying their pink, purple, or white flowers when the sun is hot and the days are long. Monardella is a genus that contains over 30 recognized species throughout western North America, and its center of distribution is distinctly Californian. This is a relatively young genus, having originated roughly 5+ million years ago, and it is closely related to the thornmints (Acanthomintha), mesa mints (Pogogyne), and savorys (Clinopodium). All of these genera have species that are very rare, threatened, and endangered in San Diego County!
Perhaps none are more imperiled than Monardella viminea. This plant is a true San Diegan. It is only found in a very small section of the planet, a rectangular area that is roughly 14 miles long from east to west, and 7 miles wide. The species was state listed as endangered in 1979 and federally listed as endangered in 1998. At the time of the federal listing (1998), there were 20 known occurrences. Despite all of the protections afforded by the Endangered Species Act, today there are just 8 known occurrences. It is restricted to the canyons of just 3 small watersheds.
With a sweet minty aroma and heads of bright pink flowers, willowy monardella is often covered in native pollinators. It has evolved to grow in coastal rocky drainages, where it establishes in the sandy bottoms and banks of ephemeral washes. These streambeds at the bottoms of our steep canyons usually flow with water for up to 48 hours after rain events. While the willowy monardella is threatened by invasive grasses and human development, much like many of our native species, the main reason for its massive decline in past years is a change in hydrology as our region has urbanized.
As the tops of our plateaus and mesas urbanized, they transitioned from vernal pools and coastal sage scrub habitat to the neighborhood communities of Carmel Valley, Mira Mesa, and Kearny Mesa (among others). Much of the ground has become impervious to rain. Water that once saturated the mesa tops and vernal pools now rushes off asphalt streets and concrete patios and down the canyons in torrents, carrying with it trash, oils from roads, and pesticides from gardens. These flows of water have expanded the once small and meandering stream bottoms into wide rocky river bottoms, and washed away any sandy edges and islands that were home to the monardella. Patches of Monardella viminea that remain are at risk of being washed away after every large rainfall event.
In the past three years, we have monitored and made seed collections from three populations of Monardella viminea, and we've been monitoring and plan on collecting from a fourth this summer. With so few populations on the planet, and many of the remaining populations in decline, these seed collections are precious. We made a seed collection in 2017 from a population that had just 7 reproducing individuals. Luckily this plant produces a lot of seed.
The beauty of seed banking is that the roughly 5,000 seeds collected from this tiny population are living individuals that we can freeze and store for long periods of time. We can use these seed collections in the future for research, restoration efforts, and hopefully to replace many of the populations that are gone as a result of human impact.
We are currently performing a germination test and propagating some individuals from this collection. So far, the collection has a germination percentage around 70%, though the test is ongoing. The little seedlings are under grow lights and could potentially be used as part of a reintroduction experiment in the future. We could also potentially establish an ex-situ living population of reproducing individuals that would produce seed for years to come.
The willowy monardella is a part of our community, and a true native San Diegan that needs our help. It exists nowhere else on Earth and is just one of many reasons our county is so beautiful and unique. Seeds stored in our seed bank will allow us to work to save this struggling native, strengthening our connection to our planet, and helping to ending extinction in San Diego.