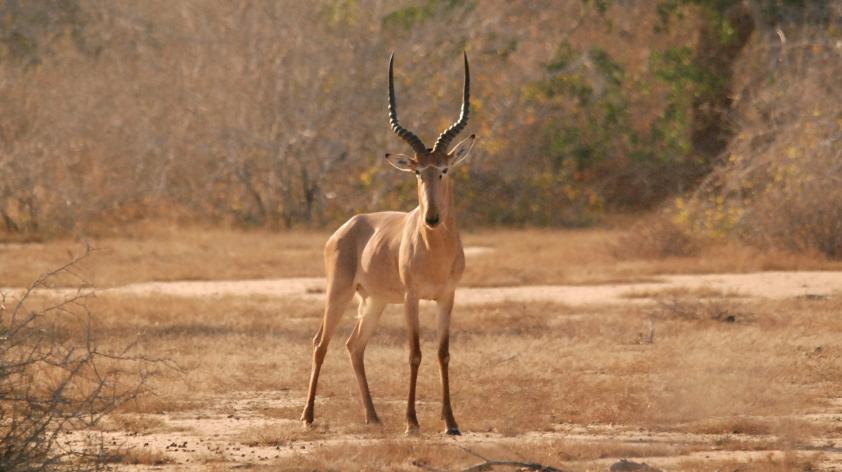 Who's the hirola?
You've probably never heard of the hirola. One of the world's most endangered antelope is a beautiful, red-gold animal with elegant, ridged horns and striking white spectacles around the eyes.
Today, are fewer than 500 hirola remaining.
Most still live within their historic range in northeastern Kenya, alongside zebra, giraffe, topi, lesser kudu, gerenuk, and even elephants, who appear to moving back into the area. Hirola also live among the goats, sheep, and cattle of the local Somali pastoralist farming communities.
Why are they endangered?
The hirola population dropped from about 15,000 animals in the early 1980s, probably due to a combination of disease, drought, poaching, and habitat loss. In particular, it's thought that many died during an outbreak of rinderpest in the 1980s. Rinderpest is a viral disease that has since been eradicated. Currently, risks include other diseases, loss of habitat, and poaching.
What's being done?
Luckily for the hirola, the local Somali tribespeople became concerned and formed the Ishaqbini Hirola Community Conservancy. With support from Northern Rangelands Trust, Kenya Wildlife Service, and other agencies, 48 hirola were moved into a predator-proof, fenced sanctuary in 2012. Rangers who live in the area patrol the sanctuary, monitor the hirola population, and keep the animals safe. As of early 2016, the population of hirola had more than doubled to 100 animals.
We know that disease was a problem in the past. We in the Wildlife Disease Laboratories are now working the Northern Rangelands Trust to help monitor for disease outbreaks that could have an impact on the hirola population. The health of the livestock in the area is also extremely important, since it provides livelihood for the local people who are the stewards of the sanctuary. We will be bringing on a post-doctoral fellow in 2017 to help keep the hirola healthy.
Photos credited to Juliet King, NRT.