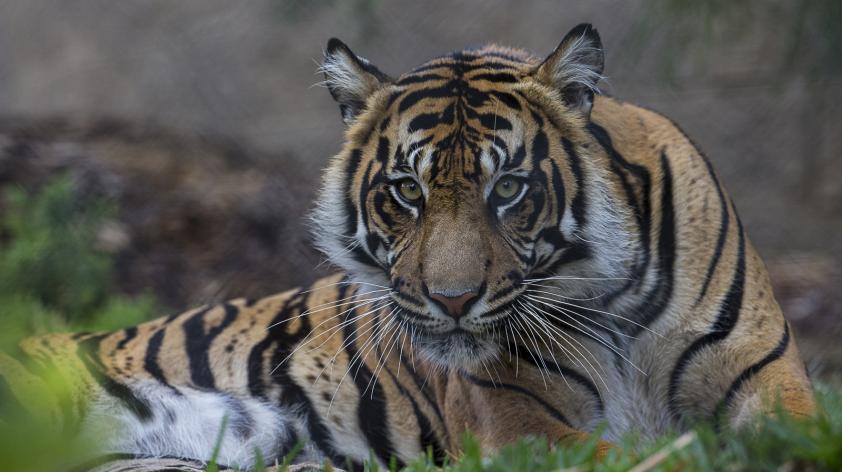 Studying Hormones and Behavior at the Tull Tiger Trails
Just over a year ago we wrote a blog discussing our tiger research undertaken by the Population Sustainability group (formerly Behavioral Ecology) at the San Diego Zoo Institute for Conservation Research. At that time we were monitoring the behavior and hormones of our amazing Sumatran tigers. This project was a three-year venture spearheaded by behaviorist Jennifer Tobey and was designed to gain an understanding into how our tiger family was acclimatizing to their new digs at the San Diego Zoo Safari Park. The project began right at the opening of our new tiger exhibit, Tull Tiger Trails, and involved a lot of time and effort from both staff and students alike. We have continued with this exciting research and would like to update everyone about our new findings with this iconic species.
Since our last communication, Tull Tiger Trails at the Safari Park has welcomed a couple of new furry additions! Our female Sumatran tiger, Joanne, became a first time Mom with the birth of her male cub, Suka, on September 14, 2015. Baby Suka was raised at our animal care center at the Safari Park but has since returned to Tull Tiger Trails. Joanne went on to successfully breed again with Suka's dad, Teddy, and produced a litter of three cubs on January 28, 2016. We are thrilled with our new additions at the Safari Park and hope you all can find an opportunity to come visit them as they are growing up so quickly!
The team at Tull Tiger Trails rotates a number of different tigers within three different enclosures. Our work tracks the behavioral responses and hormonal values the tigers may have to different sights, smells and sounds they encounter throughout their days. This is especially interesting as the new tiger exhibit is quite different from our previous tiger exhibit from both the guest perspective and for the tigers (the previous enclosure exhibited tigers much further away from our guests than our new exhibit). Now that our tigers are up close and personal with our guests, we would like to understand how the changes might affect their overall behavior and hormone profiles.
Each summer the Institute for Conservation Research welcomes student fellows. Our Bonner and Neeper fellows over the past three summers have helped us both by collecting behavioral data on our tigers and processing a LOT of fecal samples in our endocrinology lab. This past summer's fellows collected behavioral data in very hot conditions on our tigers and they also learned interesting laboratory techniques for analyzing hormones in exotic species. We are so thankful to our summer fellows for all their help over these past three years studying our tigers here at the Safari Park!
Our results from this project are not yet finalized but we are eager to share what we found so far in regards to behavior and hormones. Behaviorally, we found an interesting trend that may prove significant. The tigers appeared to be more alert in the opening season of Tull Tiger Trails (2014) as compared to 2015 and 2016. Over the three year study this behavior declined and was replaced with the tigers being more inactive which is typical for cats who sleep up to 20 hours a day. It appears the tigers were vigilant when the new exhibit opened which seems predictable.
Another behavior we monitored was pacing which is a behavior that gets a lot of attention in zoological institutions. We monitored pacing in three of our adult tigers and found three different results. In one case, the time one tiger spent pacing significantly increased in 2015 compared to 2014. Then in 2016 the time she spent pacing fell below the level observed in 2014. We would predict that pacing would be higher in 2014 when the exhibit was open to the public and then possibly decline through out the following years as the tigers acclimate to their new enclosures. We are exploring why pacing increased in this one individual during the summer of 2015.
By comparison, another tiger's rate of pacing was very low in all three years during our study. In the third tiger the rate of pacing was the same during 2014 and 2015 and then slightly increased during 2016. There are many possible reasons hypothesized why an animal may pace in a zoological setting. We are trying to discern the possible links of time spent pacing in our tigers and other activities that occurred at Tull Tiger Trail during our study years.
In addition to behavior we also analyzed stress hormone (or glucocorticoid) hormone levels in our tigers during our three-year study. Gluconcorticoids or GCs are the technical term for the hormone cortisol after the hormone as been metabolized by the liver. We used fecal samples in order to test for hormone levels because it is a non-invasive approach and doesn't affect the tigers' behaviors or related hormone levels. Our initial results indicate that GC levels in 2 of our tigers appeared to follow a similar pattern and differed in our third study tiger. In one of our study animals GC levels were not significantly different between study years. In the other two tigers, GC levels were found to be a bit higher in 2015 compared to the other study years. We are not sure what these different levels will show us in the end as there are a variety of reasons that they can fluctuate and we are still exploring relationships between hormone levels and behaviors in all of our tigers.
That's it for our update on our incredible tigers at the San Diego Zoo Safari Park for now. Please check back frequently for more updates on our research in the Population Sustainability group!