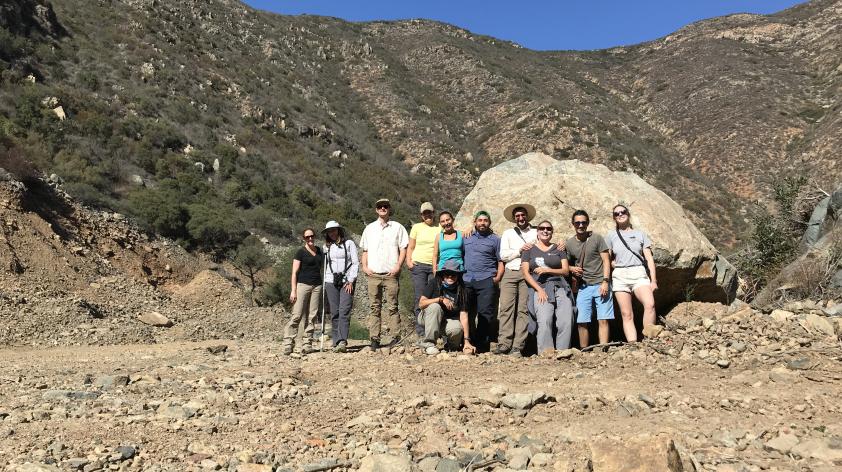 Team Nolina Baja Excursion
On a gray Friday morning I piled into a truck with five others and headed south in search Dehesa nolina, or Dehesa beargrass (Nolina interrata), known to occur across the Mexican border near the vineyards of Valle de Guadalupe. The species also occurs at a handful of sites on conserved lands in San Diego County where it is threatened by invasive weeds, climate, change, and more.
Little is known about the status of the Baja populations and our little expedition was aimed at learning more and to bank any seed we might find.
The trip was being led by new postdoctoral fellow Sula Van der Plank and contractor Josué Campos for Plant Conservation's new project, Baja Rare. They are targeting rare plants that occur on both sides of the border, like Dehesa beargrass, to collect seed and genetic samples as well as to map and monitor the populations.
Extra hands for seed collecting and extra eyes to spot stands of the plant are always useful in these kinds of trips. And Sula and Josué definitely had extra hands and eyes… the six in our truck were met with five others outside of Enseñada to complete Team Nolina for the day.
There is no lack of enthusiasm for this project!
Joining the volunteers and Plant Conservation team were Margie Mulligan and Jessie Vinjes, San Diego botanists who have decades of experience monitoring rare plants, including Dehesa beargrass. Their presence, and that of Tobin Weatherson from our seed bank team, helped everyone start on the same page for how to group or separate the population(s) and provide useful nolina-specific knowledge such as on which soil type to expect to find it.
As we neared our field site, the roadside botany began. At first, the uninitiated (everyone but Jessie and Margie), eager to find nolina, excitedly pointed to a spiky blue-green plant on the hillside. But our experts quickly pointed out that plant was chaparral yucca (Hesperoyucca whipplei) a much pointier plant with a similar form. The mistake wouldn't be made up close, but even going just 15mph and looking up, it was understandable.
Soon we found the real nolina and the subtle differences in color and form became easy for everyone to spot.
It seemed that as soon as we left the denser populated area of vineyards and farms we saw plenty of nolina – which hints at the development threat it faces. Because it can reproduce by cloning, it tends to occur in patches with individuals in the patch actually being the same genetic individual.
On the hillside, it was easy to spot along fence cuts and gaps in the denser chaparral shrubs, but when we hiked up we could see that it was tucked in amongst the shrubs throughout the hillside. It looked to be a pretty sizable population!
Unfortunately, none of the plants we came across looked like they had flowered that year and thus had no seed to collect. The species only sporadically flowers, unless a fire comes through, which will prompt mass flowering after they resprout. Sula and Josue have time collect and should be able to check on the population, now that they know the size and extent a bit better.
Any seed they do collect will stay in Mexico, and be sent to FESI Seed Bank at UNAM in Mexico City. However, the genetic samples we did manage to collect come back to San Diego for a study looking at gene flow within and between populations on both sides of the border.
Sula is off to visit the gulf islands of Baja. As another part of Baja Rare, she's working to survey plants in remote places and hopefully learn more about any rare ones she finds. Josué will be visiting sites of another cross border species – San Diego thornmint. There is no shortage of work to be done, and in the end hopefully we'll have a much better idea of the conservation work needed to save plants on both sides of the border.