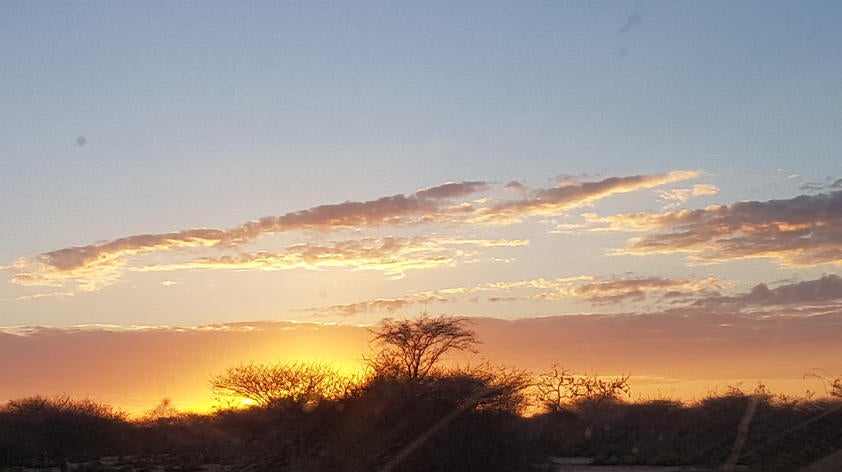 A trip to Ishaqbini – Home to the critically endangered hirola antelope
I am a veterinarian, postdoctoral fellow for San Diego Zoo Global, and project manager for the Northern Rangelands Trust. I work to understand disease risk and implement disease surveillance and response measures, with a focus on protecting the critically endangered hirola antelope. Getting to hirola at the Ishaqbini Hirola Community Conservancy is an expedition in itself.
The journey starts by ensuring my 4x4 Toyota land cruiser is road worthy, diesel full tank, packed with work tool kit and not forgetting some food/water (you never know you may get stuck where there are no shops even to buy water). It is normally a 2 day journey which covers almost 780km.
Kenya is blessed and as one drives from Nanyuki/Meru to Garissa to Masalani, we go through different ecological zones moving from highlands/mountainous regions with thick forest cover to the lowlands where ground is almost bare and flat. Along the route one encounters many different ethnic groups with different sorts of activities ranging from farming, selling camel milk along the main highways and others herding their livestock. One always learns something new.
Some parts of the road are bumpy while other areas are tarmacked making it an adventure on its own. After many hours of driving, sunset sets in, and the thought of getting a place to sleep comes to my mind. Most of the times I will spend the night in Garissa town, and get ready for another 4 hours on a bumpy road to Ishaqbini.
After a good night sleep, I am out by the first light so that I can hit the road from Garissa town to Ishaqbini hirola conservancy.
Along the way I get to see people, livestock and wildlife. When I was there last I saw a group of reticulated giraffe, some enjoying their browse on the acacia trees and others crossing the road. Animals have a right of way in Kenya and so I stopped to let them pass.
Being a veterinarian I took the opportunity to assess their body condition, check for any external wounds or parasites and I was happy to see the animals were in perfect condition, despite being outside protected areas.
In this region, people don't normally hunt wildlife and I can say there is good coexistence between the humans, livestock and wildlife.
However, due to the large livestock density and very little rainfall, there is overgrazing and habitat degradation, which can decrease resources of wildlife. The arid habitat mainly supports only acacia shrub The people here are pastoralists and live a nomadic lifestyle moving their livestock for long distances in search of good pasture and water.
After about a 4 hour drive, I see light at the end of tunnel as I approach my destination (Ishaqbini Hirola Community Conservancy). But just before I get to the conservancy headquarters I have to go through the final bad stretch of black cotton soil which, whenever it rains makes the headquarters inaccessible. Luckily this time round, my 4x4 Toyota land cruiser doesn't disappoint me and it goes through the rough stretch with "ease."
And finally I arrive, for a meeting at the conservancy headquarters with the managers and staff. We discuss our mission to prevent spillover of disease from domestic animals to hirola, and make plans to prepare for the annual vaccination campaign of domestic livestock.
This has been the routing for the last three years. This year, amidst the Covid-19 pandemic restricting our movement, we still prepare for the large scale vaccination of pastoralist goats, sheep, and cattle, doing so under much different conditions, and with the goal of protecting livestock, wildlife, and people from preventable disease.