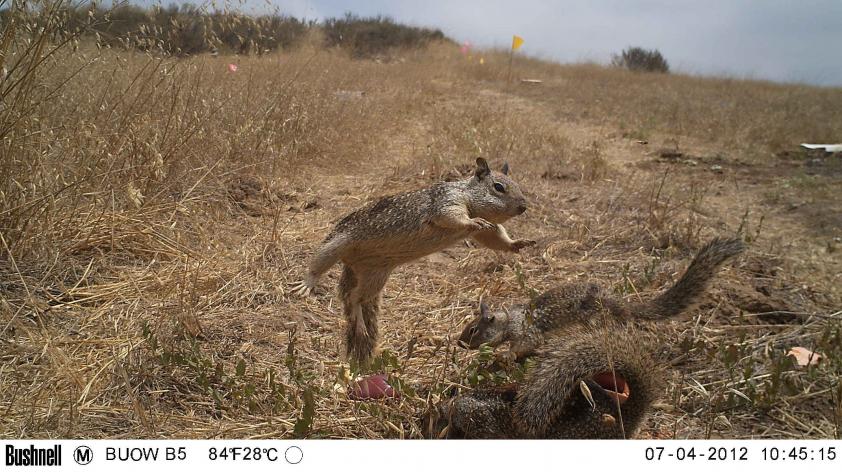 We'll make the cover, you make the burrows
Why would a zoo biologist spend a day stacking wood as if making a giant bonfire? While a bonfire sounds great for this cold December weather, these piles of wood are not meant for burning but to attract California ground squirrels. In our ongoing efforts to create suitable nesting habitat for burrowing owls in protected spaces, we are testing methods to entice squirrels into environments that were formerly less than ideal. Our hope is that once they move in, they'll develop networks of burrows and maintain a more open habitat which will attract breeding pairs of burrowing owls.
In the first phase of this program, we translocated California ground squirrels to artificially create new colonies. But this can be a very costly endeavor. In some reserves, ground squirrels may already be present, and the goal there is to encourage them into habitat that has been enhanced for burrowing owls. We have been working with our colleagues and the California Department of Fish and Wildlife to develop a way to achieve this goal. For several years now, the reserve manager at Rancho Jamul Ecological Reserve has been experimentally grazing the non-native grasslands with cattle. The cows start the process of converting thick overgrown weedy grasses like brome into a more open landscape.
Next, in an area adjacent to an active ground squirrel colony, we put in a series of woodpiles. The idea behind this is from a distance, the squirrels see these structures and move into them. They love to climb to the top to watch for predators, and can easily escape being eaten by running underneath them. Within a year, we had great success, finding many more ground squirrel burrows near the woodpiles than far from them. In November, we added a second site within the reserve and tweaked our design, specifically, putting the cover piles closer together to see if we can encourage squirrels to expand their colony towards the cover at a faster rate. This method may prove to be a simple, cost-effective way reserve managers can use the ecosystem-engineering effects of California ground squirrels to make habitat more attractive to burrowing owls and other at-risk species.