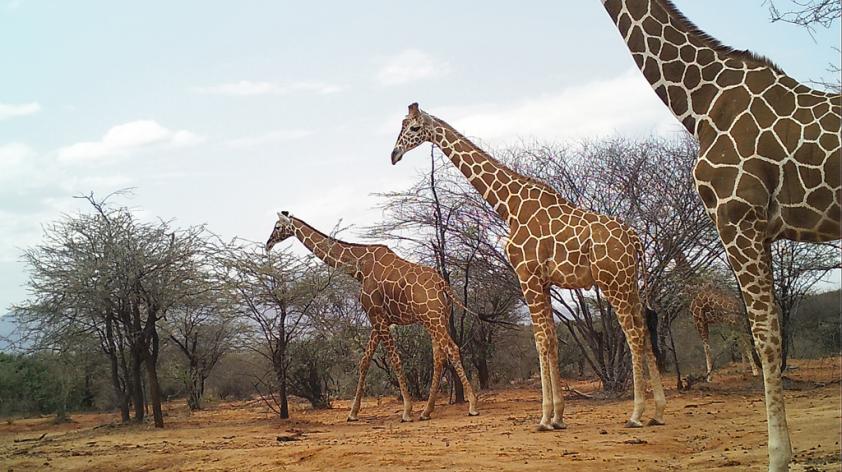 A Wild, Wild Watch in Kenya
What better way to honor World Giraffe Day (and the longest day of the year) on June 21 than to share some of our Wildwatch Kenya results. With over half a million images now classified and retired, we have some very exciting information to share!
First off, we would like to thank our dedicated citizen scientist volunteers who helped us produce these results. Without all of you, it would have taken a full-time research assistant 5 years to classify each of these 500,000 images ten times, as is the protocol on Zooniverse.
For the first time since the Wildwatch Kenya reticulated giraffe project began, we are able to analyze the data collected from our trail cameras in northern Kenya.
Of the images that have been classified so far, our citizen scientists agreed that 2,765 images contained giraffe. Our results show that giraffe ranked among the top 5 most frequently seen species, following dik dik, zebra, impala, and gazelle. (See slide show below for a full list of animal classifications.)
We were also able to extract the locations of these 2,765 images that most likely contained giraffe by linking the images back to the trail camera that they came from. This provides valuable information about where giraffe are most commonly found, what types of habitat they prefer, and where they are occurring in proximity to human activity. The maps below (see slide show) show the trail camera locations that were classified to have images of giraffe.
In addition to gaining insight on habitat preference, another important aspect we can analyze is the impact of livestock on presence of giraffe. Below (see slide show) is a map of the locations of the images that contained livestock, as well as the locations of the images that contained giraffe. In the near future, we hope to use this information, along with our other methods of data collection, to run statistical tests to see at what degree, if at all, the presence of livestock is displacing giraffe.
Oh, Baby!
Coming across a baby animal while classifying images is one of the most exciting parts about Wildwatch Kenya. But have you ever wondered why we specifically ask our citizen scientists to mark if young are present? Besides the fact that our research team gets to gawk over these cute photographs, we can also use this data to analyze the stability of populations within our study area.
By looking at the number of young that are present, we can gain insight to a whole host of new information such as birth rates and breeding seasons. We can even get clues on the impact of environmental stressors such as drought and predation on survival rates of young by seeing if they are able to survive until adulthood.
In our analysis, were able to conclude that with those 500,000 images classified, there were 1,444 images that most likely contained young, 105 of these images being of giraffe calves! See the slide show below for a glimpse into the "nursery" in northern Kenya.
With your help, we have produced sound scientific data, which will supplement information needed to analyze the current populations of species in northern Kenya. We hope that it will lead to increased protection and conservation of reticulated giraffe and other wildlife. Now that's the power of citizen science!
With over one million images still to go, we need your help now more than ever! Keep up the great work, and thank you—asante sana, as they say in Swahili—for your help in saving species.