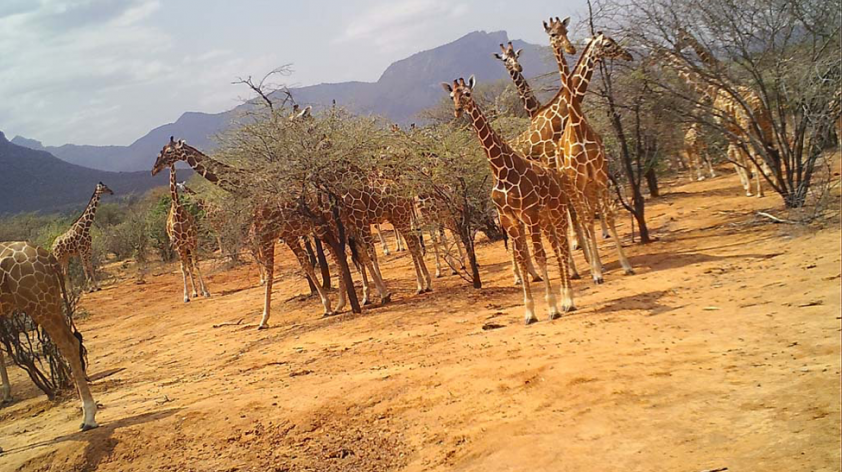 Wildwatch Kenya: Preliminary Results from the Field
Iconic in spirit and towering in stature, the reticulated giraffe of East Africa is, unfortunately, under siege. This graceful animal has declined by about 70 percent in the past 20 years—from 36,000 to fewer than 9,000 today—largely due to habitat loss and fragmentation, and poaching. In 2016, an internationally collaborative initiative took shape, uniting two conservancies in northern Kenya, staff from local communities, several conservation organizations, and thousands of citizen scientists from around the world to combat declining giraffe populations.
To better understand giraffe habitat preferences, the presence of livestock, and the diversity of wildlife across the areas, 112 motion-activated field cameras were installed throughout the vast conservancies. Data revealed in the photos will help guide strategies to protect critical giraffe habitat. Community-led conservation researchers, called the Twiga Walinzi ("giraffe guards" in Swahili) continually monitor the giraffe and maintain the cameras, retrieve the data-holding memory cards, conduct surveys and community outreach, and remove snares from the habitat. After one year, about one million images had been collected from Loisaba Conservancy and Namunyak Community Conservancy—a huge amount of data!—so the online citizen science project called Wildwatch Kenya was implemented, where people from around the world could review and classify the images (wildwatchkenya.org). Some of the field cameras reveal startling "hot spot" zones for giraffe, with towers of the regal animals milling about.
Additionally, a highly collaborative effort led to 11 giraffes being "collared" with solar-powered GPS tracking devices (specially deigned and built by Savannah Tracking) attached to their ossicones atop their head. Every hour, the satellite unit sends a data point of the collared animal's location. All of these data points were inputted into a processing system, and the areas most frequented by the giraffes formed a "heat map." Jenna Stacy-Dawes, research coordinator, SDZG, explained the importance of these data:
From this data we can start to look into habitat utilization by giraffe - why are they favoring these areas, is there specific vegetation in these "hotspot" areas? These maps can also highlight the importance of working outside of the conservancies and within the communities that border the conservancies. Giraffe do not abide by the "borders" of the conservancies as we can see by these maps. While they may be favoring the areas within the conservancies, we can see that they are occurring outside of the conservancies as well, meaning they are co-occurring with these communities.
Comparing all of these heat maps can allow us to really try to understand the areas the giraffe are favoring, which can provide critical insights into habitat utilization by giraffe on these different conservancies. With additional data, we can hopefully start to see trends in the data that can provide insights into why they are favoring certain areas. Is it due to specific vegetation? Soil type? Topgraphy? Lack of people and livestock?
Once we can determine the areas where these giraffes are more likely to occur, we can also then provide better protection to those areas as well as focus our community outreach within those area where people are more likely to be living in closer proximity to giraffe.
Please visit the slide show below and scroll over image to see the explanation in the captions.
Special thanks to the team who made the giraffe collaring possible: Veterinarians, researchers, and supporters from Kenya Wildlife Service, San Diego Zoo Global, Giraffe Conservation Foundation, Northern Rangelands Trust, The Nature Conservancy, Leparua Community Conservancy, Loisaba Conservancy, the Smithsonian Institution, Lewa Wildlife Conservancy, Senckenberg BiK-F, and Goethe University.